37 Incredible Presents Every Nineties Kid Begged For...
21 December 2016, 11:10 | Updated: 4 December 2017, 11:10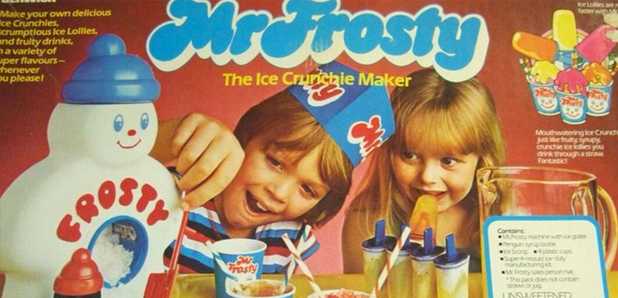 How many of these seriously awesome gifts did you REALLY want!?
If you grew up in the nineties, you'll no doubt have some fond memories of the presents that you were bought and loved, or ones that you always wanted but never actually got (we know your pain).
Well we had a little think and put together a list of the essential presents that every nineties kid absolutley had to have - we'd be happy to get half of these today tbh!
So how many of these incredible gifts did you actually own then?
1. Furby
I still have a original #Furby the Christmas one he doesn't work though he used to though. He was a limited edition to. pic.twitter.com/05GSlrOoEz

— Carolyn Sweet (@CarolynSweet87) December 9, 2016
2. Tamagotchi
My secret santa at work got me a pink tamagotchi and I love it. I'll be spending my Christmas Day reliving 1998. pic.twitter.com/k8Pzglzvus

— Luke Powney (@LukeDPowney) December 20, 2016
3. Everything Barbie...
When all your barbie clothes are from the 90s, you start to feel old #barbie #nineties pic.twitter.com/eVXNdPT0

— MR. (@monimarie926) August 21, 2012
4. ...Or Action man
Santa, this is what I want for Christmas. A little militant action man of my own. pic.twitter.com/Gt73ycQDMJ

— Sameer (@Riio821) July 14, 2013
5. Gameboy
Just like Christmas back in '89#retrogaming #gameboy pic.twitter.com/ReviUGqfVC

— FX Game Exchange DFW (@FX_DFW) February 28, 2016
7. Everything Teletubbies
Early Christmas gift for the squad because we're the Teletubbies pic.twitter.com/3pl4hQjAt0

— Buttercat (@DanaMalang) September 20, 2015
8. Playstation
My PS1 is covered in Christmas glitter. How it happened I'll never know. I haven't started this thing up in years. pic.twitter.com/g9ofJXNxze

— Nate (@Mega_Umbreon) December 2, 2015
7. Poster Of Your Favourite Band (Probably Spice Girls)
My work partner just dropped bomb on me, that he had a Spice Girls poster on his wall back in the day. Come on man! pic.twitter.com/7nV9qoAlcn

— Todd Parker (@tparker4vu) June 22, 2016
8. The Latest Huge Hit On Casette (Or CD If You're Lucky)
So I just found a picture of my brother getting a Britney Spears cassette tape for his birthday... my life is complete pic.twitter.com/saXvHcxSdP

— Alexis Marx (@AlexismarxA) October 14, 2016
9. Etch-a-sketch
Just had my Christmas Dinner, so full now playing with my new Etch-a-Sketch now! pic.twitter.com/rMgAh3oUsu

— JazZ (@jangobijazmine) December 25, 2015
10. Pogs
just want Pogs for christmas pic.twitter.com/HRlVtg7QR2

— uɐpuɐɹq (@thenewbrandan) December 25, 2014
11. Tech Deck
when he take u to his room and he got his own tech deck ramp pic.twitter.com/3XVf0h9yif

— (@KKlanderud) December 8, 2016
12. Sega Lock On
When SEGA Lock-On came out in 1993, I thought AR was ready!
But it just reflected an lcd digit onto the lens... :( pic.twitter.com/q273tzKSGT

— הגﮰ G (@_Lan_Di_) November 24, 2014
13. Sylvanian Families
Santa brought my kids Sylvanian Families last Christmas. What does he bring this Year? Christmas is always enjoyable! pic.twitter.com/P9YUtaQd

— Chello (@Chello0109) December 24, 2012
14. Buzz Lightyear
I remember when i was 7 years old and I never got the Buzz Lightyear I wanted for Christmas. The day has come. pic.twitter.com/opZoYrX5mo

— Juancho (@juancarlocobar) December 27, 2015
15. Polly Pocket
"Polly Pocket" that's all I wanted for Christmas pic.twitter.com/FWwuaEh5R1

— Keyoncé Knowz (@Simplyy_Kiondra) April 30, 2016
16. Every Remote Controlled Car Ever
Is it weird that I'd still love a remote controlled car for Christmas!? #stillsick #timeless #bigkid pic.twitter.com/kAs32KYQj0

— Alex Higson (@AJHigson) December 16, 2013
17. Kick Master
Who remembers owning a Kickmaster as a kid? pic.twitter.com/3Bya7sgPW6

— 90s Football (@90sfootball) September 7, 2015
18. Meccano
Half a century in this life, and got my second ever #Meccano set for Christmas. pic.twitter.com/ERAxoFk1wJ

— AndyT (@dieselglider) December 25, 2014
19. Karaoke Machine
My little brother got a karaoke machine for Christmas............ TURN UP pic.twitter.com/8gkccucVZ9

— Prisilla (@SillaXoXo) December 26, 2013
20. Dance Mat
Found my retro PS1 dance mat. Who's coming over? pic.twitter.com/U3STjJXNJJ

— (@partytimeash) April 11, 2014
21. Dreamphone
When I got this for Christmas I felt like I had one the lottery #tbt #dreamphone #90skid pic.twitter.com/kgijMvYhQE

— ChristineDoesDrama (@chrisdoesdrama) July 3, 2014
23. Talkboy
You know it's #Christmas when...... #talkboy #homealone pic.twitter.com/iTCUZCiWEw

— Mardy Bum (@AC_Current59) December 25, 2015
24 Walkie Talkies
@MelissaBenoist A late Christmas present from my sister. Supergirl walkie talkies :D pic.twitter.com/i8gGUtApej

— Brandon Michelle (@brandon_michele) December 29, 2016
25. My Baby All Gone
"@LiziWeetman: "@PrimarySklProbs: I can practically smell this picture pic.twitter.com/d92TLGQtk9" @natweet87" my baby all gone

— natalie weetman (@natweet87) August 27, 2015
26. Cabbage Patch Kids
Fun Fact: I got a cabbage patch kids doll for christmas when I was 2. I carried it with me all through preschool. pic.twitter.com/0gpgMG9eND

— Faux Angst (@postmodern_kid) December 30, 2014
27. Mr Frosty
I wonder, will there ever be a Christmas when I don't still yearn for a Mr Frosty maker? #retroyearnings pic.twitter.com/JpAPzpWyyx

— V Spencer-Eves (@v_spencereves) December 16, 2015
28. Stretch Armstrong
I got a Stretch Armstrong for Christmas once and it broke open within 20 minutes. pic.twitter.com/RBT2pbHkWJ

— @@@@@ (@Very_Dad) December 23, 2014
29. Spirograph
I really want a Spirograph for Christmas #tweetsfrom1994 pic.twitter.com/beGhkAbgRi

— hASHLIbrowns (@ashdmitch) December 9, 2014
30. Sky Dancers
Anyone remember these, think there called sky dancers. There from the 90's, havnt seen them in years they were in storage at my grandparents pic.twitter.com/imPOvg4VcO

— Destiny LittleHawk (@NativeSunbow) October 30, 2016
31. Beanie Babies
Dropped off a bin of Beanie Babies (remember them?) @StAnnsCenter from parent's house. Christmas joy for great kids pic.twitter.com/hTluvx74sW

— Tommy McFLY (@TommyMcFLY) December 22, 2014
32. N64
33. Frustration
The original games are now out #Frustration #Retro #Christmas @0littleclaire pic.twitter.com/en8zHoRxBD

— Gemma Unsworth (@littlegemsy) December 25, 2014
34. Blo Pens
All i want for christmas are blo pens again pic.twitter.com/0cDtmuiHCj

— Lauren (@RadShad10) November 26, 2013
35. Screwball Scramble
What was your favourite game as a child? Ours was Screwball Scramble! Oh the fun we had.. pic.twitter.com/IhtQgO7p3z

— Gallimore's (@Gallimores) November 20, 2016
36. Everything WWF
Did some searching and thought I'd share. These are my original Hasbro WWF figures. #wwe #wwf @WWE pic.twitter.com/bob3j8cK2W

— Pop-Culture Junkie (@PopCultureJunk2) December 15, 2016
37. Slinky
I want a Slinky for Christmas. This used to keep me entertained for hours pic.twitter.com/ZpaBuMP33A

— Megumi (@_clvrarose) November 27, 2015