Jesy Nelson's BF Chris Clark Forced To Apologise After Five Year Old Racist Tweets Emerge
30 March 2017, 11:59 | Updated: 4 December 2017, 11:10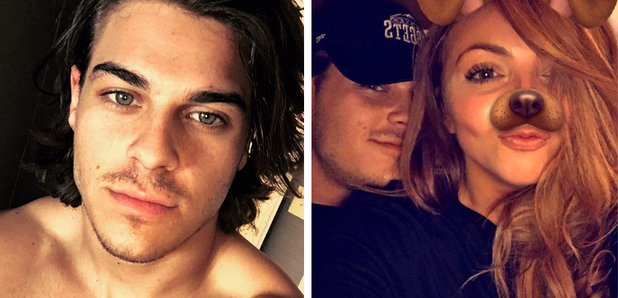 "These are not the kinds of messages which represent him in 2017".
Reports have emerged that TOWIE star Chris Clark sent a number of tweets using racist language several years ago.
A tabloid obtained the tweets and approached the star's representatives for comments, leading them to issue an official statement in response to the discovery.
Chris is currently dating Little Mix star Jesy Nelson which has pushed him into a more intense media spotlight over the last few months.
In the tweets, Chris wrote things such as 'Just can't get my head around someone flying a [plane] into a building. That's why I'm racist.' and sent further tweets with some seriously racist language.
These were sent back in 2012 and 2013 when Chris 15 & 17 years old and his reps have moved to suggest that these views do not represent his thoughts and feelings in 2017.
In an official statement, Chris' reps said, "The posts are from four and six years ago when Chris was only fifteen and seventeen years old. These are not the kinds of messages which represent him in 2017."
"He was a big fan of rap music and foolishly adopted some of the lyrics of his favourite artists in these posts. He understands how inappropriate these messages are, particularly now he reaches wider audiences and he deeply regrets his actions. He apologises unreservedly to anyone offended by these posts and reiterates that he had no ill intention."
Discussing the tweet above which references the tragic events of 9/11, the rep continued, "Chris was condemning terrorism and was trying to communicate that he is not a racist."
"He accepts his use of language was wrong and again apologises unreservedly. This tweet was also from many years ago when Chris was young and impressionable."
Since the tweets emerged, Chris has remained silent on his Twitter account, but we're sure he'll be back soon enough.
A similar incident occured back in 2016 when Little Mix star Leigh-Anne Pinnock's footballer boyfriend Andre Gray was forced to apologise after tweets he sent several years earlier which contained homophobic language were discovered.
At the time, Andre took to Twitter to offer an apology, stating, "Thankfully I am not the guy I was back then and will continue to work hard both on and off the pitch to become a better person."
You may also like...