Charlotte Crosby & Stephen Bear Gave Each Other Tattoos But They Might End Up Regreting Them
2 March 2017, 15:14 | Updated: 4 December 2017, 11:10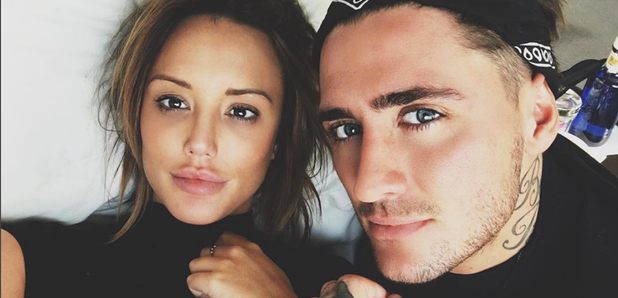 Are they gonna live to regret these!?
When rumours of Charlotte Crosby and Stephen Bear being in a relationship started to circulate, we knew that they would be a wild couple if it were true.
Whilst they're still not an official couple, there have been way too many signs that they are actually dating, however we didn't know they'd go this far this quickly and we've got a feeling they might end up regretting it!
The pair are currently hosting MTV show 'Just Tattoo Of Us' and whilst the idea is that members of the public create tattoos for their loved ones, it seems that Charlotte and Bear have decided to get in on the act too.
When it came to designs though, what would the couple go for? We know they love to have a laugh and play jokes on each other, but surely they wouldn't create anything too cray, right? Wrong.
For Bear, Charlotte reportedly decided to get a picture of her own face tattooed onto his inner arm. If they are a couple and they go on to split up, how is Bear going to explain that to any future partner?
Whilst that is a pretty wild tatt to get inked onto your bod, the one that Bear has designed for Charlotte is next level. Before beginning filming for the show, Charlotte was dating Big Brother star Ash Harrison and Bear's design appears to be a reference to that previous relationship.
Speaking to a tabloid, a source said, "For the finale of Just Tattoo Of Us it was Bear and Charlotte's turn to design a tatt for each other. Charlotte inked her own face on to Bear but he went a step further – some might even say a step too far. He invented a strange hybrid of a bear and a cheetah."
"While it might appear to some people it was meant to represent his quick wit, in actual fact it was to commemorate her cheating on her then boyfriend Ash with him."
The source went on to reveal, "Charlotte was devastated, least of all as her and her team had gone to great lengths to hide the fact she was in a committed relationship with Ash Harrison to start with. Needless to say Bear won her over and now she sees the funny side – but how many girls would think it's a laugh being branded a cheat?"
After Ed Sheeran tattooed Capital Evening Show host Roman Kemp in the Capital studio recently, we didn't think we'd be hearing about another wacky tattoo any time soon, but Bear and Charlotte have come through with the goods.
Who's next, Craig David and Taylor Swift getting matching tattoos?
You may also like...