WATCH: Charlotte Crosby Threw Up On The Table In The Middle Of A Live SÉANCE
14 September 2017, 12:39 | Updated: 4 December 2017, 11:10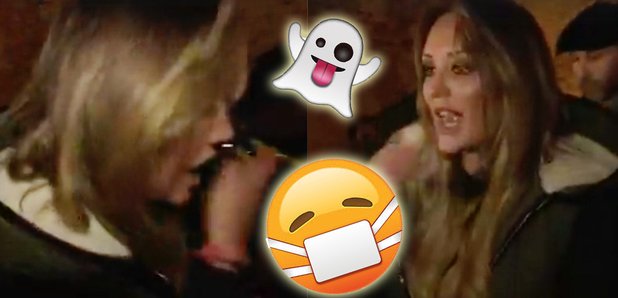 Did she vom on a ghost though? That's what we all want to know…
Séances can be pretty scary stuff, but it looks like it all got too much for Charlotte Crosby and Stephen Bear – he walked out and she threw up all over the table just seconds later!
The couple were taking part in Celebrity Ghost Hunt Live last night, alongside Love Island's Chris Hughes and host Rylan Clark when it all went wrong for the reality TV couple.
The incident happened after Bear was locked in a haunted cell as part of the ghost hunt, but took a funny turn and was advised by medics not to take part in the final séance.
Rylan told viewers, "Bear had a few issues while he was in the cells and from recommendation of the medics he shouldn't take part in the final seance. But he is fine, Charlotte saw him in the break and he's had a cup of tea."
However it looks like Bear did try to take part – but left early on as the ghost hunt switched over to Facebook Live… and just seconds later Charlotte – who had been complaining about feeling sick throughout the night – threw up on the table.
Thankfully, they mopped up the vom with a cloth and carried on hunting for ghosts without Charlotte and Bear. Ghost hunting can only be made scarier with a big pile of puke, right?