Charlotte Crosby Reveals Broken Nose After Freak Accident Leaves Her Injured
5 November 2018, 11:00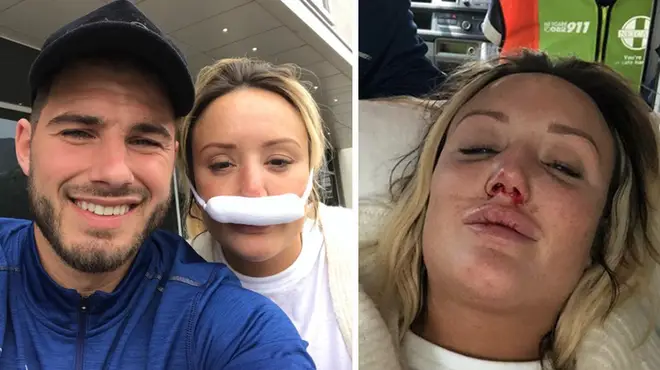 The former Geordie Shore star has previously undergone a nose job and could be left with a "misshapen" nose after the accident.
Charlotte Crosby has revealed a freak accident while filming The Charlotte Show has left her with a broken nose and a deviated septum, as she shared the shocking photos with her fans.
Love Island's Laura Crane Rushed To Hospital & Battling Life Threatening Illness
Charlotte slipped by the side of her hotel swimming pool during filming in Cape Town, and manage to fracture her nose in three places as she fell.
The former Geordie Shore star shared a photo of herself in the back of an ambulance, captioned, "It's all fun and games until you break ya nose".
She later added another photo of herself and her boyfriend Joshua Ritchie, captioned, "So slightly bruised and still swollen BUT we made it to safari FINALLY. Nothing stopping me from seeing my favourite thing in the world.
"Thanks so much for all the kind messages my nose has 3 fractures and a deviated septum for now we need to wait until the swelling has gone down to see if it's misshapen, hopefully it's all gunna be ok".
Charlotte was due to leave Cape Town the day after her accident to continue filming in another part of South Africa and was photographed at the airport without her bandages.
Her representative revealed, "Charlotte is currently in South Africa working in Cape Town with MTV and filming for series 2 of The Charlotte Show.
"Unfortunately whilst filming this morning Charlotte slipped on the side of her hotel pool and banged her nose fracturing it in three places.
"Charlotte has now been discharged from hospital she is in good spirits and will see a specialist on her return to the UK."
She's previously been open about having had a nose job after Geordie Shore left her feeling insecure about her looks, and has also had a boob job and fillers.
Feel better soon, Charlotte!
Want Tickets To Capital's Jingle Bell Ball Before Anyone Else? Download Our App Now To Access Pre-Sale!