KSi Caught Logan Paul's Girlfriend Following Him On Instagram A Day Before Their Big Fight
24 August 2018, 11:27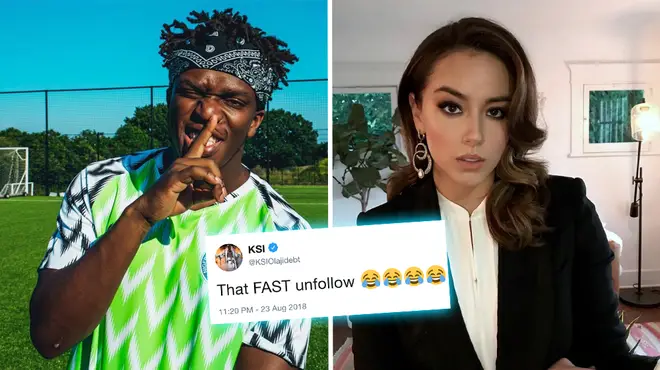 KSi and Logan Paul's boxing match has got even more intense after Logan's GF Chloe Bennet accidentally followed the YouTuber on Instagram.
Logan Paul's girlfriend Chloe Bennet has become the centre of attention just one day before her beau's boxing match against rival YouTuber KSi.
As always with these rivalries, all the beef has taken place on social media with KSi tweeting the fact that Chloe followed him on Instagram before she quickly unfollowed.
Of course, many followers questioned whether or not the screenshot was legit. One follower accusing KSi of some editing antics, "It's called photoshop sweetie. It would say "followed by logan paul" on her profile cause you follow logan on insta".
Whatever the case, we're loving the extra drama!
> KSI Vs Logan Paul Fight: All The Details Inc. Dates, Tickets & More
Chloe was quick to respond, adding, "Uhhhm nope! Can't unfollow someone you never followed. BUT how about this, maybe after you lose on Saturday, I'll give you a pity follow".
> Download our app to keep up to date with all the KSi and Logan Paul beef!
She even followed up with her own version of KSi's original tweet claiming that she can't even follow his Instagram account as there are 'no users found' when she searches for him.
KSi and Logan Paul's fight is set to take place tomorrow at 7PM with their brothers fighting one another on the undercard... so, who's going to win... we'll find out very soon!