"My Greatest Dream": Khloé Kardashian Confirms She's Pregnant With Gorgeous Snap And Touching Message
21 December 2017, 07:46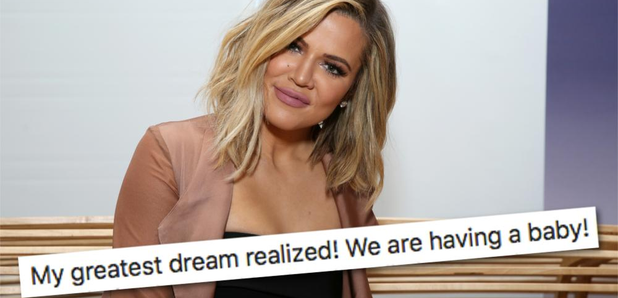 WE'RE SO HAPPY FOR YOU, GIRL.
The entire world has expected to hear the news that 'Keeping Up With The Kardashians' star, Khloé, was going to announce her pregnancy soon, what with loads of rumours flying about all over the shop.
And if you haven't been expecting that... WHERE HAVE YOU BEEN?
> Kylie Jenner Proves She's The Ultimate Shady Queen By Dragging A Catfish Who's Pretending To Be Her
Now, the 33-year-old has finally confirmed that she is expecting her first child, after the reality star - who is dating basketball player, Tristan Thompson - posted an adorable snap to Instagram.
Showing off her pregnant belly, Khloé captioned the picture with a huge message, saying "We are having a baby! I had been waiting and wondering but God had a plan all along."
In her message, she repeatedly thanked Tristan for all of the love and support he's provided her; "Tristan, thank you for loving me the way that you do. Thank you for treating me like a Queen."
> You Want All The Latest News On Khloé's Baby? Then Check Out Our App Now!
While very few of us are surprised by the news, Khloé also commented on keeping "this quiet", saying she wanted to enjoy the news with her family and friends first.
All we can say is... WE'RE SO PROUD FOR YOU, MUM!
After this news, and Kim explaining the Christmas card, we're hyped to see what the Kardashian lot have in store for December...