WATCH: Kim Kardashian's Awkward AF Delivery Room Encounter With Tristan Thompson
14 November 2018, 17:35 | Updated: 14 November 2018, 17:37
KUWTK has captured the excruciatingly awkward first encounter between the Kardashians and Tristan Thompson in the delivery room as Khloé prepares to give birth, and the reality queen is not about to give him an easy time.
In this week's Keeping Up With The Kardashians episode we finally get to see what went down in the delivery room just days after Tristan Thompson's cheating scandal was exposed, and Kim Kardashian is not about to let the NBA star get away with it lightly and makes things pretty damn awkward for him.
WATCH: The New 'KUWTK' Trailer Addresses Tristan's Cheating And Kanye West's Mental Health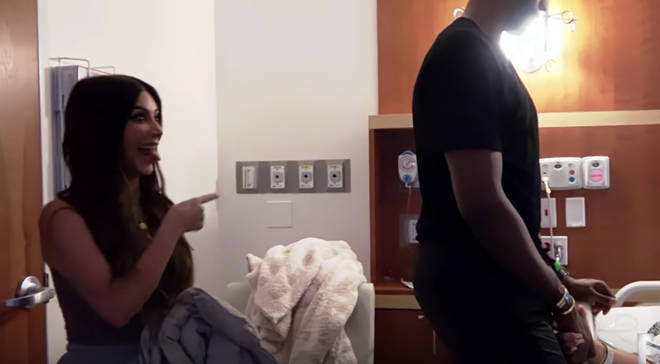 In the clip, which sees Tristan comforting Khloé Kardashian as the Kardashian family arrive to the hospital, Kim ignores Tristan and instead makes joking throat cutting gestures behind his back, laughing and sticking her tongue out whilst the cameras film.
After spotting her sister's antics, Khloé asks if the two are going to say 'Hi' to each other, and then the worlds quickest and most awkward hug ensues, with Kim letting it be known that she is fully not here for his antics- something we know turned sour between the pair as she revealed he had blocked her on Instagram after calling his actions 'so f***ed' on Ellen.
>Download Our Brand New App For All The Latest Kardashian News