Kim Kardashian's 'Heartbroken' As Kanye West Says 'I Love You' To Donald Trump On Live TV
12 October 2018, 10:53 | Updated: 12 October 2018, 10:58
As Kanye West's White House visit aired around the Globe and across live news networks, Kim Kardashian is said to be 'heartbroken and mortified' at her husband's public declaration of love to the president.
Just in case you've somehow missed it, Kanye West has been making headlines since declaring his support for Donald Trump, and he's now visited the White House, where he hugged the president and told him "I love you" and his wife, Kim Kardashian is said to be 'heartbroken and mortified at the whole ordeal.
Khloé Kardashian 'Cheated' On Tristan Thompson With French Montana In Act Of Revenge
According to Hollywood life, a source told them Kanye's visit was 'supposed to be a private dinner' but turned into a live TV interview with the president and a room of reported and Kim 'was watching at home with the rest of the nation, and she didn't like what she saw'.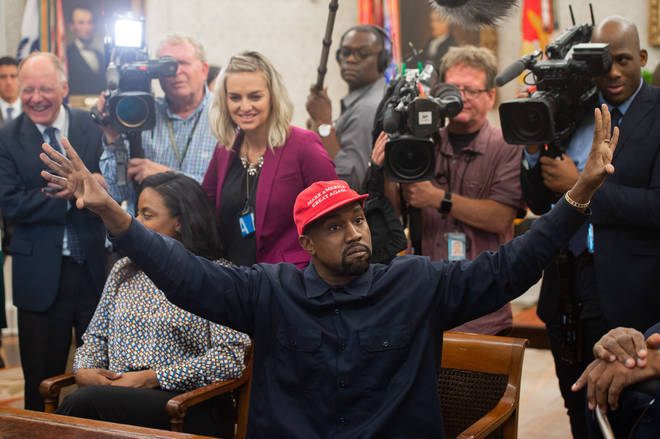 Sporting his controversial 'Make America Great Again' hat and going on an incredibly Kanye-esque rant in the Oval Office which even found Trump lost for words, replying to his ten minute long rant with: "That was quite something"
However, Kim herself only visited the White House a few months back during her campaign to free prisoner Alice Johnson from a minor drugs charge, something she was successful in, but the reality star is said to be using her ability to influence the president to encourage prison reform.
It started with Ms. Alice, but looking at her and seeing the faces and learning the stories of the men and women I've met inside prisons I knew I couldn't stop at just one. It's time for REAL systemic change pic.twitter.com/kdKr8s6lJW

— Kim Kardashian West (@KimKardashian) September 5, 2018
The source spoke a about the famous family having to clean up the mess Kanye leaves behind, saying: "The problem is, there's no telling Kanye how to act [...] he's going to launch into whatever he wants, and Kim has to be there to pick up the pieces afterwards."
During his speech, Kanye spoke about the need for a 'male energy' to be in the White House, said his MAGA hat made him feel like superman and hinted he may still run for president, feel exhausted yet? We do.
>Download Our Brand New App For All The Latest Kardashian News