Kendall Jenner's Dog Reportedly Bit A Child & The Police Were Called After She 'Fled' The Scene
6 August 2018, 16:31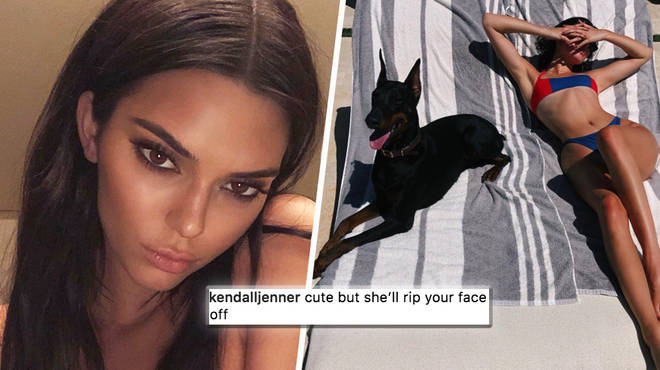 Kendall Jenner's Doberman dog has reportedly bitten a little girl, which resulted in the police being called on the supermodel, as she had left the scene.
Kendall Jenner's had the police called on her, after her Doberman Pinscher dog bit a small girl who was eating with her mother outside the Beverly Glen Deli in LA, but she and boyfriend Ben Simmons had left the venue when the mother came to talk to her.
>Kardashian Sisters Have An Epic Twitter Fight As 'KUWTK' Airs Kim & Kourtney's Bitter Row
Although there were reportedly 'no obvious puncture wounds' and the dog was on a lead at the time, the police were called over the incident, who in turn contacted Animal Control, and the deli provided ice.
We get the feeling supermodel just might now be regretting the caption "cute but she'll rip your face off' on this Instagram snap of of her pet... eek.
So I hear Kendall Jenner's dog bite a little toddler out in public and Kendall fled the scene ? That's so not being a responsible dog owner.

— Mad Maxine 又 (@FlngFromSpace) August 6, 2018
Oh give me a break, the kid was probably trying to play with the dog and it sniped at her..like most small dogs do..it didn't even break skin.. maybe the parent should have asked Kendall if the kid could touch the dog..but also Kendall should have apologized

— IshNicoleSays (@NikkiHeatz) August 6, 2018
There has been debate online about whether Kendall was wrong to leave the scene, with some arguing it is irresponsible dog ownership, and others saying a 'small nip' isn't a matter that needs the police involved.
>Download Our Brand New App If You Fancy Keeping Up With The Kardashians