WATCH: Cara Delevingne's INSANELY Awkward TV Interview... And Her AMAZINGLY Sassy Response
30 July 2015, 13:49 | Updated: 6 December 2018, 16:29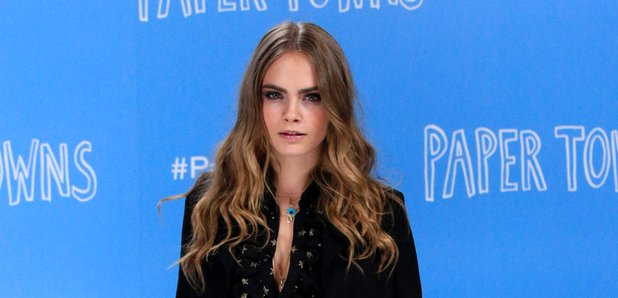 The actress' face says it all... this could NOT have been a more cringeworthy interview if it tried.
When an interviewer opens a chat by getting your name wrong, you just KNOW it's going to be a cringe-fest… and that's exactly what happened to poor Cara Delevingne this week. Just WAIT until you read her Twitter response after!
The UK model is currently out in the US promoting her new movie Paper Towns and had a video link chat with a morning TV show in Sacramento which *ahem* didn't quite go exactly to plan.
After the interview began with Cara being called 'Carla', things quickly went downhill from there as the star's quick wit and uber British sarcasm was CLEARLY lost on the three US hosts.
"No I didn't read it, I didn't read the script either, I just winged it," Cara replied when asked if she had bothered to read the book before she started filming.
Things went from bad to worse when one presenter accused the model of looking "exhausted" and not being excited about the movie any more, saying: "I saw you in London talking a couple of weeks ago on TV and you seemed a lot more excited about it than you do right now. Are you just exhausted?"
Cara's face PRETTY much said it all, and it didn't stop there. The TV hosts went on to tell her she seemed "a bit irritated" and "moody", which led to some SERIOUSLY awkward moments of silence.
It was pretty clear the interview was over when one of the hosts told Cara to go "take a nap and drink a Red Bull"… OUCH.
Cara has had the last word though, and tweeted out to her fans with some SERIOUS shade at the interviewers. #OwningIt
"Some people just don't understand sarcasm or the British sense of humour," Cara tweeted, before actor Zach Braff added another VERY good point in Ms. Delevingne's defence.
Some people just don't understand sarcasm or the British sense of humour

— Cara Delevingne (@Caradelevingne) July 29, 2015
@Caradelevingne or how it's condescending to ask an actress if she's read the book.

— Zach Braff (@zachbraff) July 29, 2015
We knew Cara was a sassy lady but watching her side-eye faces in the video above is just GOLD. Hit play and see for yourselves.
You may also like...
WATCH: Taylor Swift's 'Bad Blood' Video