Brooklyn Beckham Breaks Silence On Split As Lexi Posts Shady AF Dua Lipa Video
11 April 2018, 12:13 | Updated: 11 April 2018, 12:44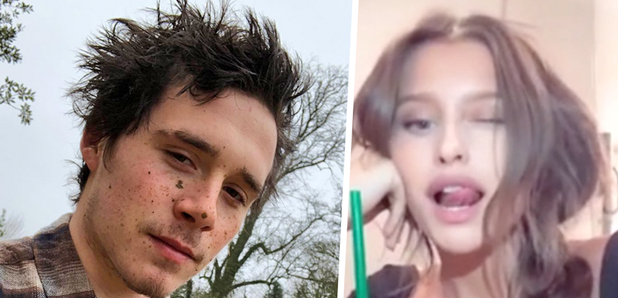 Brooklyn has quickly moved on from his relationship with actress Chloe Grace Moretz and after being pictured kissing model Lexi Wood, the 19 year old has broken his Instagram silence on the situation.
When Brooklyn Beckham was pictured kissing model Lexi Wood in a tattoo parlour recently, the entire world was shocked, not because the pair were kissing in public, but because we had no idea Brooklyn and Chloe Grace Moretz had split!
We've gotten used to seeing couples announcing splits in recent times and keeping their fans informed on the whole situation, such is the huge intrest into celebrity relationships, however Brooklyn's 'announcement' was a little different.
> Brooklyn Beckham Hints At Chloe Grace Moretz Split By Kissing Someone Else

Being pictured kissing your new romance in public sure is one way to let everyone know you've split from your partner and whilst Brooklyn stayed silent after the pictures emerged, he's now broken that silence with a cheeky like on Instagram.
When a fan account posted the picture above of a young, crying Brooklyn alongside his mum Victoria Beckham with the caption 'Chloe fans are attacking Brooklyn Beckham', the 19 year old liked the picture, suggesting that the spit may not have hit him too hard.
But it's not only Brooklyn who has used Insta to get his thoughts out in a less than subtle way - his new lady Lexi Wood took to her Instagram stories and shared a video of herself listening to Calvin Harris and Dua Lipa's new song 'One Kiss'.
Whilst that alone isn't shady, when Dua sings the lyrics 'One kiss is all it takes to fall in love with me', Lexi flashes a cheeky wink to the camera, seemingly referencing the fact she was spotted kissing Brooklyn.
Chloe has remained relatively silent on the whole situation, but we're sure the truth behind the pair's split will come to light soon enough.
As for Brooklyn and Lexi, who knows what their relationship status is right now - one thing we do know is that they're certainly not trying to hide their romance from the world.
> Download Our Fancy New App For All The Latest Celeb News!
Whilst you're here, find out whether you know The Beckham's better than Brooklyn does...