Booty Shakers: 15 Tracks Guaranteed To Make You Wiggle
18 July 2015, 06:00 | Updated: 4 December 2017, 11:10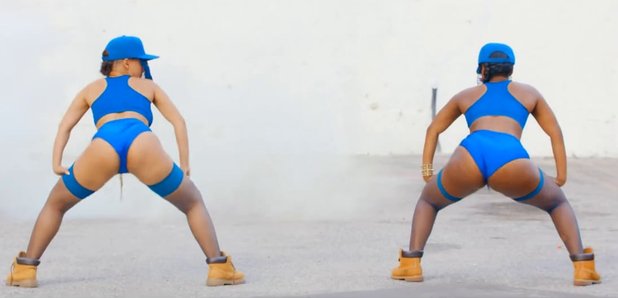 There's nothing more liberating on a weekend than shaking what your mamma gave you - so here are some tunes which are SURE to get those hips moving!
From booty queen Jennifer Lopez to everyones favourite dirty RnB princess, and even a surprise appearance from a former squeaky-clean pop star - these 15 ANTHEMS will have you twerking like a pro in no time!
'Wiggle' - Jason Derulo
From his dirty trumpets to his ripped abs, Jason Derulo's always managed to provide videos that get us hot under the collar - but 'Wiggle' is the true definition of something that makes us... well, wiggle!
> Even MORE Jason Derulo Tracks To Make You Shake Your Ass!
'Anaconda' - Nicki Minaj
You know that when a song samples Sir Mixalot's 'Baby Got Back', it's gonna be a down and dirty booty shaker! Mix in Nicki Minaj's infamous behind and you won't be able to keep your hips still.
'Partition' - Beyonce
Well 'Crazy In Love' might have you up-tempo twerking faster than an Engergizer bunny, 2014's raunchy 'Partition' is the new sure-fire grinding hit from Queen Bey - just make sure you act a little bit more PG than Beyonce does in the video!
'S&M' - Rihanna
Oh come on, this was a given, right? A song about releasing your inner naughtiness is bound to have you shaking that tush on the dancefloor - and any unsuspecting booty-slaps are TOTALLY RiRi's fault!
> Rihanna's SEXIEST Music Videos... EVER!
'Black Widow' - Iggy Azalea & Rita Ora
Iggy Iggs' arguably has the most famous behind to come out of Australia... So it's no surprise that her huge Big Top 40 smash with feisty Rita Ora has or gyrating every time we hear it.
'Get Low' - Dillon Francis & DJ Snake
With almost as much booty-jiggling as a Nicki Minaj video, Dillon Francis & DJ Snakes surprise 2015 collaboration is a sure-fire way to get you in the mood for a twerk.
> Vote NOW For The SEXIEST Male & Female In Pop!
'Lean On' – Major Lazer & DJ Snake
While the video might lean on (see what we did there?) bhangra-inspired dance moves for its video, there's only one part of our anatomy that shakes uncontrollably every time this jam comes on.
'Loyal' - Chris Brown
We're used to getting down to Breezy's tunes, but this anthem has our waists dipping lower and lower with every repeat. No matter what the lyrics say, we're TOTALLY 'Loyal', Chris!
Bump 'N' Grind 2014 - Waze & Odyssey Feat. R Kelly
22 years ago, R Kelly taught us that there wasn't anything wrong with a little bump and grind - and thanks to Waze & Odyssey we're reminded of that fact two decades on! Now we just need some volunteers to join us on the dancefloor.
'Good Feeling' - Flo Rida
We absolutely LOVE our very own Avicii's track 'Good Feeling' - but it took a pinch of naughtiness from Flo Rida to make this a twerking anthem.
'On The Floor' - Jennifer Lopez Feat. Pitbull
When you think of people who made the booty famous, Jenny From The Block HAS to be the first person that springs to mind! Throw in a pinch of Mr Worldwide and it's not just our feed you'll be finding 'On The Floor'
'Somebody' – Natalie La Rose Feat. Jeremih
Even though she's a fresh face to the music industry, Natalie's 2015 summer jam throws back to some serious '90s RnB. Now crack out some double denim and get droppin'!
'Freak Of The Week' – Krept & Konan Feat. Jeremih
Another down-tempo and dirty hit from this summer that's guaranteed to get you gyrating - just stay out of trouble.
'Where Are Ü Now' – Skrillex & Diplo Present Jack Ü Feat. Justin Bieber
Gone are the days when Biebs was getting his fresh-faced 'Baby' on, now he's a legit multi-genre hunk. After an unexpected team up with Skrillex and Diplo, we've now found ourselves rolling our hips to the Biebs!
'Booty' - Jennifer Lopez Feat. Iggy Azalea
With a booty insured for $27 MILLION, you know that J Lo's going to pop up on this list more than once - and it would HAVE to be a team up with Iggy that made it. We apologise if you're the one who gets singled out for having a "big big booty" and walk away with a slapped tush...