The Girl Blac Chyna 'Attacked' Has Finally Broken Her Silence
3 April 2018, 14:43
The woman on the other end of THAT crazy fight with Blac Chyna has spoken out about what really went down at the theme park.
Did you have a relaxing Easter weekend? Good, because not everyone (and by everyone we mean Blac Chyna) had such a chilled one.
Never one to shy away from drama, a seriously intense situation erupted for Chyna as she was filmed having an extremely public fight with two other girls, which saw her try and hurl her daughter's pink stroller into them.
> YouTuber Brands Ariana Grande The 'Rudest Celeb' He's Ever Met & It's All Kicking Off
Twitter user '@SexxiiLexxii' was the cause of Chyna's fury and has she now been spilling the tea on Twitter about what really went down and it isn't pretty.
It turns out, the whole thing kicked off at the amusement park Six Flags Magic Mountain when she approached Chyna and Rob Kardashian's daughter Dream and reached out to touch her on the hand.
Y'all will never believe what happened today

— SexxiiLexxii (@_callmelexooo) April 2, 2018
She confesses she had no idea it was Chyna's baby as Dream was in the care of a nanny and then before she knew it, people were saying Chyna was hunting her down to 'whoop her ass.'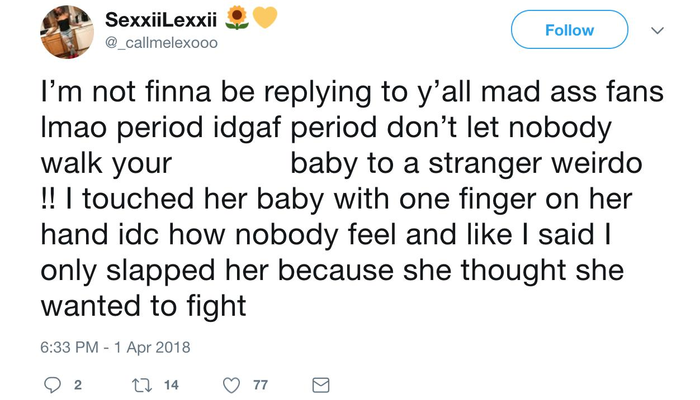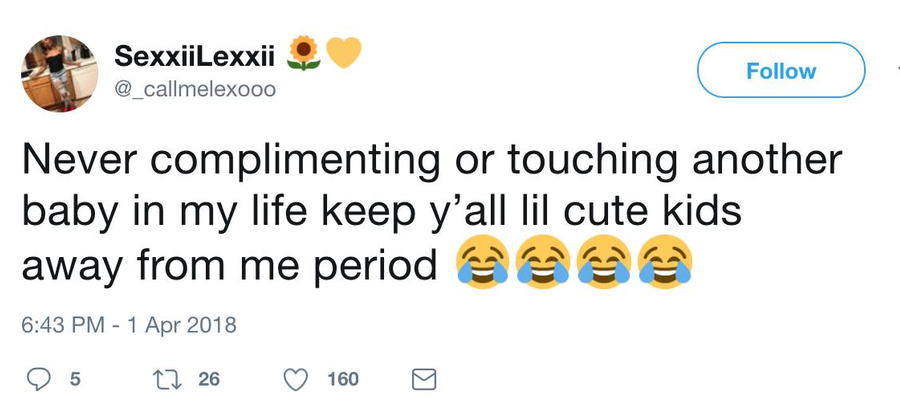 Picture:Twitter
The girl continues to explain how the perfectly innocent situation quickly turned on her when Chyna found out what she had done, but said it was her fault for leaving Dream with a nanny who would let her child be touched knowing she wasn't happy with it.
Really hoped on instagram a whole different person she was a couple hours ago and wasn't even walking with her child. Talking about shout out to mothers out there you address your beautiful daughter as "don't touch the kid" bye a really mother would've told me that was her child.

— SexxiiLexxii (@_callmelexooo) April 2, 2018
Many have been quick to jump to her defence, wondering why Chyna had such a seemingly dramatic reaction.
I agree she overreacted. A civilized person would have said, "I'm sorry, but I would rather you didn't touch my child. Please avoid doing so in the future. thank you." Still, you didn't have to go & physically fight her. Violence over trivialities is beneath humans. :(

— Brian (@neutrino78x) April 2, 2018
Bet if rob Kardashian had her he would've been more than happy to let u say hi to dream https://t.co/qgrycRD0tz

— Niaa (@niaabambia) April 2, 2018
You didn't do nothing wrong. If the nanny knew Chyna didn't like people talking or touching her kids on the damn hand, she shouldn't have took her over there to you

— Jas (@Love_Jasy) April 2, 2018
However, Chy has taken to Instagram to explain her side of the story and we kind of see her point.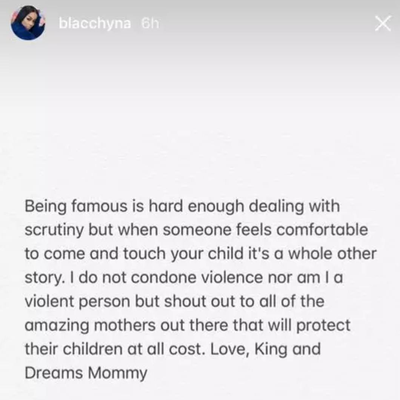 Picture: Instagram
The whole thing has left us questioning whose side we are on? Do you think it was a massive overreaction or was Chyna right to protect her children in that way? Either way, that fight footage is gonna live on the internet forever, we can hear Kris Jenner freaking out from here.
> Download Our Shiny New App For All The Latest Music News And Gossip
Reminisce Kylie's adorable first video of Stormi below...