Has Blac Chyna Gone Into Labour?! The New Kardashian Kid Could Be Here VERY Soon!
9 November 2016, 14:37 | Updated: 4 December 2017, 11:10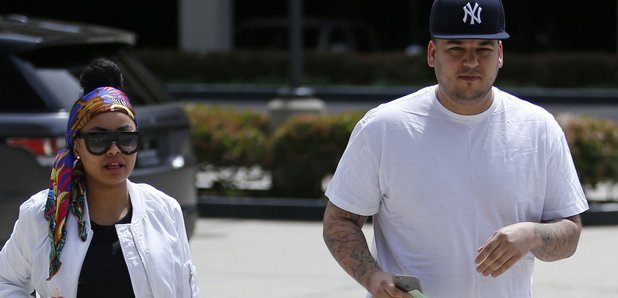 Chy's due on 16th November - but a deleted tweet from Rob Kardashian seems to suggest she's labour already!
Guys... the brand new Kardashian baby could be just HOURS away from entering the world - it looks like Blac Chyna has gone into labour with Rob Kardashian's baby!
Rob posted a photo of a baby carrier and the caption "We ready" on Instagram around the same time Chyna's mum Tokyo Toni posted details of her flight in to LA with the caption "My baby on her way", before they were quickly deleted.
Rob and Chyna had only been together for five months before they found out they were expecting, but things move HELLA FAST in Rob Kardashian and Blac Chyna's world... as they also quickly got engaged.
Chyna and Rob were clearly wasting NO time after getting together to start a family, and the surprise announcement came back in May, but according to a spokesperson for the couple, they brought the big reveal forward after the news was leaked to an entertainment site, and the couple were originally planning to tell the world on American Mother's Day the following Sunday.
According to the Daily Mail, Chyna suspects that the Kardashians were behind the news leaking in order to promote Rob's appearance on Keeping Up With The Kardashians over that weekend and her rep said, "She had that moment stolen from her", adding that only her inner circle was aware of the pregnancy.
Rob and Chyna revealed the exciting news by posting a custom made Muva-moji emoji from her BFF, Amber Rose's app on their individual Instagram accounts at the exact same time on Friday and sent the internet into a frenzy.
The baby will be the only offspring of the family to bear just the 'Kardashian' surname - Kim's children, North and Saint, are Wests and Kourtney's kids, Penelope, Mason and Reign, are Disicks.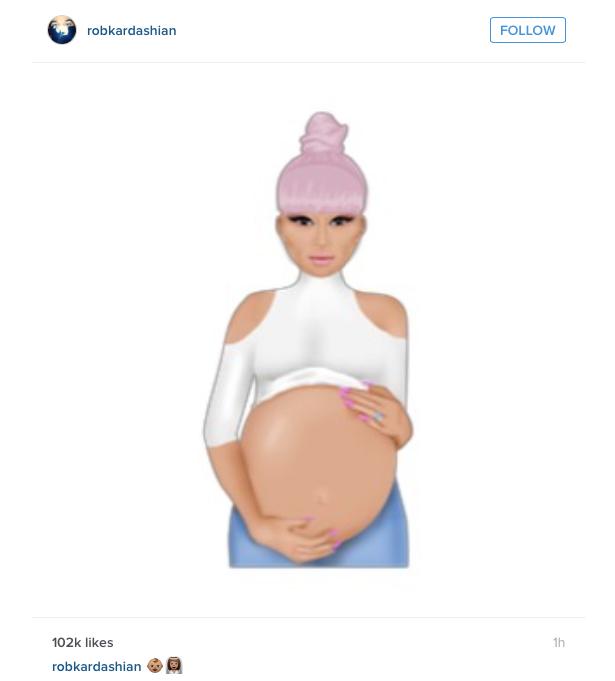 While there's been no word yet from the Kardashian family, although Kim and Kylie liked both Rob post, Blac Chyna's ex fiance Tyga - who happens to be dating Rob's little sister Kylie Jenner - commented on her post wishing the couple a massive congratulations.
This will be the first child for Rob and a second for Chyna, who has a three-year-old son King Cairo with Tyga.
A source close to Chyna told the Daily Mail that the couple are "very happy and excited" about the new addition, and that both families have known about the pregnancy for some time, and that " Chyna's family is very supportive."
Chyna's mum - who goes by the moniker of Tokyo Toni - posted a video gushing about the news, telling her followers, "I just got off the phone with my daughter Blac Chyna and son-in-law-to-be Rob. Congratulations, guys! They told me, 'You're about to be a grandma'. I'm super excited for them and I cannot wait for this new addition to the family.
"As well, I'd like to congratulate the other side of the family which are the Kardashians and the Jenners. Congratulations guys, we're having a baby! I'm going to be a grandma!" Erm - someone should point out that she already has a grandchild, King Cairo....
Rob also took to Instagram to post a sweet tribute to his future baby mama on Mother's Day over the weekend:
It was previously revealed in a tell-all book that Chyna was rumoured to be planning to have a baby with Rob sooner rather than later, and according to Ian Halperin and his new book 'Kardashian Dynasty', Chyna wanted to have Rob's baby, despite his claims that the family didn't want anything to come of the pair's engagement in the long run.
A source claimed, "This ain't going to be strike three. The family are in a bind now. They are struggling because there is no way that Chyna is going to let go of this until she succeeds in her master plan - and that's to become the most famous and the richest Kardashian."
According to the explosive book, the main reason Chya went after Rob was to snare the only male Kardashian heir… making her the only one able to have a baby with the Kardashian surname.
The sources claim,. "'If Tyga is going to get into that family then I'm going to get into it too.' Chyna is no fool. Instead of getting bitter she devised a plan. And the plan was to hook up with a Kardashian, to get into that family and to call the shots. Her dream was to become as big - or bigger - than the Kardashians."
And it looks like some of the prophecy might just be coming true - according to TMZ, Rob and Chyna are in "fast track talks" with E! for a new show about the two of them, and are set to make a seven-figure sum out of it.
TMZ also reports that Chyna's filed legal documents to trademark the name 'Angela Renee Kardashian' to launch "entertainment services, make television and movie appearances, live as a 'social media celebrity', as well as party host."
Now it's a case of taking bets...boy or girl, guys?!