Blac Chyna Just Leaked Rob Kardashian's Number, Explained Why And Now People Think She's Petty X100
30 September 2016, 13:00 | Updated: 4 December 2017, 11:10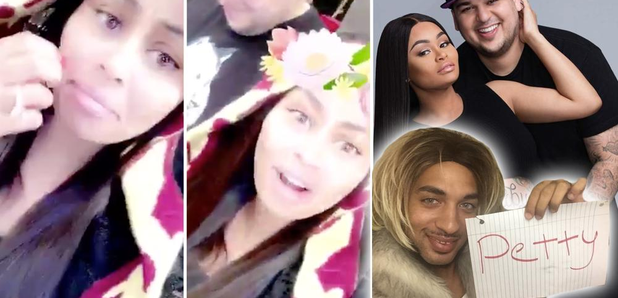 Fresh after Rob leaked Kylie Jenner's number earlier this week, Blac Chyna's gone and given Rob a taste of his own medicine.
At 3:15am this morning Ms Chyna posted Rob's number to her 687,000 followers. Ouch.
Robert Kardashian Number. (818) 317-5131 !

— Blac Chyna (@BLACCHYNA) September 30, 2016
Shortly after posting the tweet she jumped on to her Snapchat to explain why and Rob was standing behind her the whole time.
In the first clip she says "To assure your man is not texting no bitches, just tweet his number out.
"How's that feel Rob? How ya feel?...Get your number changed, thank you."
So to get back at Rob for texting other women, you tweet his number so he was text more women? Right...
Rob stood smirking the whole time, not seeming to mind too much that his number was released to the world.
She continued: "To all these females wanna keep texting his phone 'cause they had his number before, talking about 'you good? You and Chyna good?'
"No, we good. We good. We straight. All right."
Rob's line was disconnected shortly after the tweet was sent out. Unlucky pal.
And we're not the only ones seeing this as a bit petty.
Blac Chyna leaked rob's number cause he was texting girls so she gave him more to text - petty level 10000

— nicole (@Nikolettax) September 30, 2016
Blac Chyna just leaked Rob Kardashian's number so "bitches could stop texting him" i love this woman

— krissyvillanueva (@krissyreaganv) September 30, 2016
rob leaked kylies number, blac chyna leaked robs number. where is the credit card information???? patiently waiting pic.twitter.com/yjD8flQRIJ

— priscilla (@prisizzzle) September 30, 2016
You May Also Like