BOO! The 9 BEST Halloween Music Videos EVER Made #TrickOrTreat
27 October 2018, 11:19 | Updated: 7 December 2018, 09:17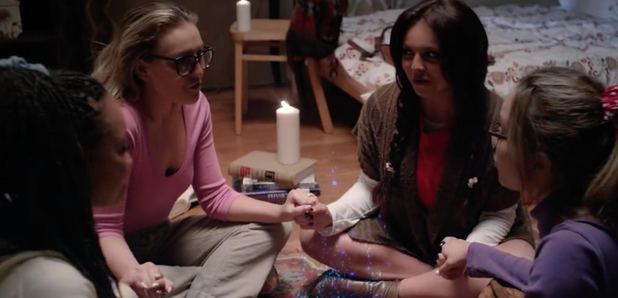 From Michael Jackon's classic 'Thriller' to Backstreet Boy's 'Everybody', we've got your favourite music videos covered this Halloween.
Halloween is finally upon us! We all know what that means, right? A look back at all your favourite spooky music videos of course! Here is our definitive list of those spine chilling tunes that get your blood pumping and heart racing.
Little Mix - 'Black Magic'
If ALL witches looked like Jade, Leigh Anne, Jesy and Perrie then we might actually have to think twice about joining some kind of witchcraft cult. Hmm, well maybe not but still, the four ladies easily hold the award for sexiest witches ever...sorry Professor McGonagall.
Michael Jackson - 'Thriller'
How can we not start with this? In 1983 the King Of Pop released an epic 14 minute-long music video for the title track from his album 'Thriller'. Even if you have seen this a million times before, trust us, skip to 8:25 and relive one of the most iconic dance routines ever, you'll be practising it in the mirror for this weekend in no time!
Backstreet Boys - 'Everybody'
Backstreets back alright! If you are ever stuck for costume ideas this Halloween then this is the video for you. Maybe Nick Carter's mummy outfit could do the trick? Did you know, the boys funded part of the music video themselves after their label refused to shell out the cash for such a big budget video.
Chris Brown - 'Wall To Wall'
Chris Brown brings some pre Twilight sexiness to the vampire genre in the 'Wall To Wall' music video. The 'Exclusive' man also sports some gnarly metal fangs whilst busting out some monster moves.
Rihanna - 'Disturbia'
Rihanna is renown for her risqué music videos however she took a dark turn when releasing Disturbia. It may not be the scariest on this list but any music video where Rihanna is straddling a mannequin in a jail sail is surely worth a mention.
Robbie Williams - 'Rock DJ'
Anyone remember this? Whatever you do, do NOT copy Robbie's method of gaining a girl's attention this Halloween from this video. Not only will you end up without any clothes on, you'll probably feel pretty sore in the morning!
Kanye West - 'Monster'
The monster line-up of Kanye West, Nicki Minaj and Jay Z dropped this video back in 2011. With conjoined twins, corpses, and Nicki torturing herself this is surely one the freakier on the list.
Beatfreakz - 'Somebody's Watching Me'
In 2006, Dutch Dance group Beatfreakz released a remix of Rockwell's classic pop tune 'Somebody's Watching Me'. And with that, came break-dancing zombies, pop locking ghouls and a tiny Michael Jackson impersonator.
David Guetta feat. Nicki Minaj - 'Turn Me On'
Set in the world of Steampunk, David Guetta and Nicki Minaj teamed up to release this freaky video full of creepy mechanical dummies…officially freaked out!
You may also like...