From Niall Horan To Justin Bieber - 19 Times Celeb Interviews Got SERIOUSLY Awkward
12 January 2018, 14:55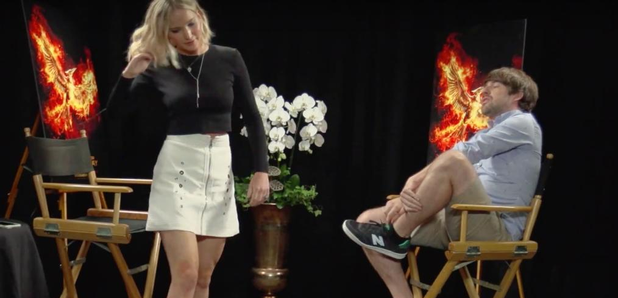 When you're a massive celeb doing hundreds of interviews a year, the odd one is bound to go wrong... so, SO wrong.
Celebrities normally manage to get through their endless interviews and press junkets in a pretty disaster-free manner... but sometimes they don't go exactly to plan.
From totally misunderstanding their questions to being offended by the interviewers, we've picked out our favourite awkward celebrity interview moments. Enjoy!
When Hugh Grant called Mark Wright "riff raff" despite him putting on a posh accent for the interview
Since Mark Wright moved to Los Angeles to work as a showbiz reporter, he's been putting on a posher accent than normal so they can understand him - but despite this (and bizarrely claiming he's from London rather than Essex) Hugh grant still joked that he was "riff raff" and that he was lucky he was even talking to him. LOL.
When Jonah Hill took no rubbish from an interview after they questioned his weight
Jonah Hill has always been the loveable lad from 99% of our favourite comedy movies, including 'Superbad' and '21 Jump Street'. That's all he needs to be referred to as - as a good comedian. Although, when the interviewer asked "But are you still considered 'the fat guy'?" after discussing Jonah's dramatic weight loss, he had no time for it, saying "Do you have any other questions, that are smart?". YOU GO, JONAH.
When Vin Diesel started coming on to an interviewer mid-way through a junket
Vin was in Brazil to promote xXx: Return of Xander Cage when he sat down with a Brazilian interviewer - while the chat started off pretty normal, towards the end he called her "so f**king sexy" and got out of his chair towards her, before she hastily ended the interview early. You can check out the cringeworthy moment from 11.21 onwards.
When Kourtney Kardashian totally blanked an interviewer when they asked about her sister Kim's armed robbery
Well, that's one way to get out of answering the question, we guess! Kourtney stared off into space and refused to acknowledge the question, which was later attributed to a technical fault, but hella awk all the same, dontcha think?
When a fan spoke to Niall Horan during a radio interview... and told him that Canada doesn't care about him...
Most fangirls would give their right arm for the chance to speak to the one and only Niall Horan, but when a caller on the Kyle and Jackie O show revealed she was in school, the hosts told her "
Tell [your classmates] you're on the line with Niall right now and they will totally lose their minds, go on", to which she replied, "I'm sorry b

ut I live in Canada. No one really cares about it any more." AWK.



When a French presenter basically insulted Jonah Hill while talking about her 'fantasies' about him
Jonah Hill's back
again
, and his interview with the French show Le Grand Journal is probably one of the MOST hideously awkward things we've ever clapped eyes on... the presenter tells Jonah hill that her ultimate bedroom fantasy involves him - but that he would invite Brad Pitt and Leonardo DiCaprio into the bedroom, and then Jonah would leave! Needless to say, this didn't go down so well, with Jonah saying he was "
glad I came to this show to get ridiculed by a local weather girl - it's nice". And that wasn't all - after this total car crash interview, Jonah cancelled all his other press interviews on his trip to France. D'oh!
When Kelly Rowland REALLY didn't want to talk about Beyonce's new album and wanted to promote Claritin instead
When the whole world was talking about the scandalous revelations on Beyonce's new album 'Lemonade', one woman that REALLY didn't want to talk about her former bandmate was Kelly Rowland... who was on a TV show to talk about Claritin allergy medicine and made sure everyone knew it. AWK.
kelly rowland does NOT drink lemonade. pic.twitter.com/5BlBVzx0XO

— TRAPMONEYMODI™. (@DCtoBC) April 27, 2016
When Fifth Harmony basically admitted they are planning to go their separate ways.... awk.
The internet basically imploded when a new Fifth Harmony interview emerged which showed the girls looking less than enthusiastic and telling the interviewer that in the next few years they want to win a couple more awards before they go their separate ways. Understandably the #Harmonizers are pretty worried - but the interview is certainly something to behold...
wtf pic.twitter.com/KTquPqagSV

— meaghann (@meaghannwho) December 4, 2015
Jennifer Lawrence... you're a MEAN lady! The Hunger Games star TOTALLY pranked this interviewer with a fake walk-out!
J-Law was doing an interview with Smosh for The Hunger Games: Mockingjay Pt. 2 with an interviewer who THOUGHT he was pranking the Oscar winning actress by being fed funny things to say to her through an ear-piece.
Little did he know that J-Law and her co-star Liam Hemsworth and Josh Hutcherson were doing a prank of their own with Prank It Forward, and she was being fed through an ear-piece TOO… making some HILARIOUSLY awkward moments, including a fake walk-out!
When Justin Bieber agreed to do a sketch... then walked out of a radio interview
Something obviously didn't sit right with JB when he did a Spanish interview as part of his 'Purpose' press tour... and after agreeing to do a sketch with some famous Youtubers with "hundreds of millions of subscribers" in order to "break the internet", JB walked out of the studio never to return. (Skip to 7mins 50secs to see Justin walk out)
When an interviewer wouldn't stop asking Daniel Craig to do a pout
GUYS. This is actual JAMES FREAKING BOND. When you're given time with James Bond, you DON'T ask the international super spy to do his best Kim Kardashian face. SMH.
When an interviewer admitted he hadn't heard One Direction's new song, Louis called him a "little sh*t"
Proof that you should ALWAYS do your research before interviewing a member of the biggest boyband of the moment - Louis Tomlinson's awkward response to the presenter admitting he hadn't listened to their song is just BRILLIANT.
BBC presenter Nolan called 'a little shit' by One Direction Louis pic.twitter.com/9q0e5uRIPn

— Stephen Nolan (@StephenNolan) October 21, 2015
The time Demi Lovato told an interviewer her favourite dish… was a mug
When asked what her favourite 'dish' - as in food - was, Demi misunderstood the question and told the interviewer that she loved a good mug because it holds stuff like hot tea. Oh Demi.
Who can forget that EPIC Cara Delevingne interview that was doomed from the start when they called her the wrong name
It's no wonder Cara got a bit sarcastic when the Good Morning Sacramento hosts called her Carla and asked her questions like whether she had ever read the book 'Paper Towns'… when she was there to promote her role in Paper Towns. The interview ended with the hosts asking if she might need a nap because she was cranky and made everyone on earth's teeth itch with awkwardness.
There was also the time Rita Ora called out an interviewer for being a perv and staring down her top
Rita called the US radio DJ a "rude piece of s**t" and a pervert when he pointed out that he had been distracted by being able to see a bit more than he bargained for down her top. A whole THIRTY FIVE MINUTES in to the interview.
When Tom Hardy shut down a ridiculous question about his sexuality at a press junket
During a junket for his new film Legend, one journalist in the crowd asked Tom about his sexuality based on comments he had made in an interview back in 2008 rather than focussing on the movie... and Mr Hardy was having none of it.
Nicki Minaj once BRILLIANTLY called out some radio interviewers for not watching her music video before their interview. Awk.
When Nicki went to this US radio station to promote her song 'Freedom', the presenters admitted they hadn't even watched the video for it. Yikes... Nicki isn't one to mince her words so she made sure to tell them EXACTLY what she thought about their lack of research... for about eight whole minutes straight. Go on, Miss Minaj!
Kanye West (shockingly) flipped out and went on a huge rant about getting support for his art
When Sway asked Kanye why he needed someone to back his vision rather than funding it himself, Kanye went on one of his EPIC existential rants to the point the two of them ended up having a heated moment.
When Taylor Swift was shellshocked AF when an interviewer insinuated she would be taking lots of men home from the Grammys
Taylor may have been a serial dater in days gone by, but she literally looked like she'd been slapped in the face when an interviewer insinuated she would be taking lots of men home with her after the Grammys. Oh lord.
Is your skin crawling with the sheer uncomfortableness of it all? Ours is.