Modern Family's Ariel Winter Reveals The Shocking Truth About Her "Really Rough" Childhood
15 September 2017, 14:55 | Updated: 4 December 2017, 11:10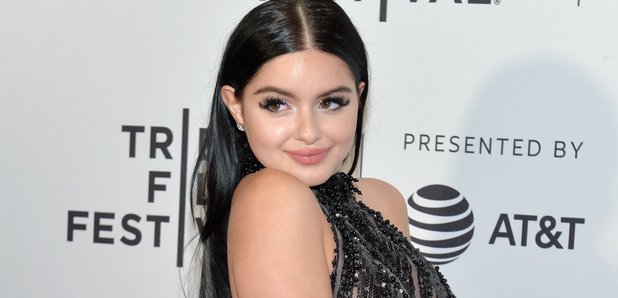 The star was eventually emancipated from her mother into the care of her sister.
Ariel Winter might be one of Modern Family's most famous stars, but her upbringing wasn't always easy and she's revealed the shocking truth behind her mother "sexualising" her as a teen.
Ariel revealed to the Hollywood Reporter that she had her diet restricted and her mother would choose inappropriate outfits for her. She explained, "I went through a bad chapter. [From the age of seven I was dressed in] the smallest miniskirts, sailor suits, low-cut things, the shortest dresses you've ever seen. People thought I was 24 when I was 12. If there was going to be a nude scene when I was that age, my mother would have a thousand percent said yes."
Pressure was also put on her to nail every audition, as "you don't get to mess up when you have somebody around you who is constantly watching."
Her food was also very restricted with Sharon Sacks, her on-set teacher, revealing, "Her mother kept her out late at night at these ridiculous parties. She was 12 and 13 years old and had to be on set at 6:30, 7. I would order a couple lunches in my name so Ariel could eat one of them. I could tell she was hungry. Boiled chicken and cucumbers isn't going to do it for a growing kid."
As well as going through a tough situation at him, this was around the time Ariel hit puberty and her changing body made her the target of online trolls. She admitted, "The first season I was very thin, no breasts, no hips. The next year, I had huge boobs and a butt."
For her character they sometimes strapped her chest down and dressed her in baggy clothes, which Ariel says, "I understand it for the character, but I'm very torn."
With it came the abuse online at age 11 or 12, with Ariel revealing, "It was automatically 'You're a fat slut.' 'You're a whore.' I was like, 'Maybe I'm going to lose some weight, dye my hair, change how I dress. … Maybe I'm doing something wrong'. I actually got more hate by trying to change. Why can't people just let other people feel good about themselves and do what they want?
"If you want to wear a short skirt and show your body like I do, it doesn't mean you're a wh**e. And it doesn't mean you're not one. People call me stupid because I post photos of my butt when the real thing is, I love my butt. I love butts! Why stifle yourself because other people can't handle it?"
It was not long after that Sharon helped Ariel get out of the "really rough period, really bad chapter" at home by getting her placed to live with her sister, who she had only met a handful of times.
Sharon revealed, "Ariel told me she was ready. She was very scared… She knew the consequences." Those being that she has not spoken to her mother in over five years since it all happened.
However, despite it all, Ariel has no regrets and is even hoping to start a charity to help abused children and adults in the future. She explained, "Even though I wish I had a better childhood, I wouldn't trade it, because it made me who I am today. I still respect the people that hurt me."
It sounds like this 19 year old is ridiculously strong and has her head screwed on – we're hella proud of her for turning a bad start into a brilliant future!