Pop Goes A Cappella: 13 MUST-SEE Fan Covers Of The BIGGEST Hits Around
15 May 2015, 11:25 | Updated: 4 December 2017, 11:10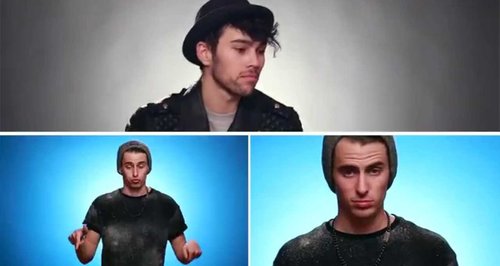 Turns out the human mouth can do more than just provide insane vocals!
If Pitch Perfect 2 has taught us anything, it's that you can get gobby and deliver some serious sass in a very musical way.
Take a look at our 13 favourite covers of the biggest pop tracks around that don't feature a single instrument... APART from the voice!
Taylor Swift & Bastille 'Shake It Off'/Pompeii Mash-Up by Mike Tompkins
Okay, so combining Bastille's biggest hit with one of Taylor's is already a winner for us, but Mike had to go one step further. The YouTuber, who has over 1.5 MILLION subscribers dropped this insane mash-up in September and we've been hooked on his a cappella covers since.
Every Disney Track That ACTUALLY Matters by Trey Duffey
Trey Duffey has seemingly put together an a capella group that could rival the Barden Bellas, especially when they can cover everything from 'Can You Feel The Love Tonight' to 'A Whole New World' - talk about a nostalgia trip!
Sam Smith's La La La/Latch by Pentatonix
You've probably guessed already that we've got a soft spot for mash-ups. Pentatonix's a cappella version takes Sam Smith's vocals from 'La La La' & 'Latch' and somehow manages to nail both Naughty Boy & Disclosure's production just by using their voices. The result is something that wouldn't sound out of place on Pitch Perfect - no surprise it's had over 17 MILLION views!
Wiz Khalifa's 'See You Again' by Julia Westlin
The most surprising tear-jerker of 2015 dominated the Big Top 40 earlier this summer, so it's no surprise that it's received the YouTube cover treatment. One of our absolute favs has to be Julia Westlin's a cappella cover, which is almost as chilling as the original. Goosebumps!
Daniel Bedingfield's 'Gotta Get Through This' by The Sons Of Pitches
Not only do the The SOP have one of the BEST group names we've ever seen, they've brought a new lease of life to an absolute classic! We love a bit of nostalgia, so when we saw the rehash of DB's 2001 tune, we were hooked. Wait, hang on... That song is 14 years old!?
Mark Ronson & Bruno Mars' 'Uptown Funk' by Mike Tompkins and Max Schneider
Mark Ronson and Bruno Mars delivered the biggest hit in recent memory when they dropped 'Uptown Funk' in late 2014 - smashing all Big Top 40 records and invading dancefloors everywhere. Mike Tompkins is pretty much a cappella royalty on YouTube, so we HAD to include him on this list (twice!). Obviously this cover was going to make the cut, but Mike's cause was definitely help with his buddy Max (and not just because he's really hot!)
Maroon 5's 'Sugar' by Mike Tompkins
We promise we're not playing favourite here by adding another of Mike's videos to the list, but covering one of our favourite songs of 2015 with one INSANELY well produced video just can't be missed!
David Guetta & Usher's 'Without You' by BYU Noteworthy
And the award for "Most Members Of An A Cappella Group" goes to... BYU Noteworthy! The 9-person-strong group successfully mashed up David Guetta & Usher's dancefloor anthem 'Without You' with U2's 'With Or Without You' (ask your dad), and the result is so good!
Meghan Trainor's 'All About That Bass' by Home Free
It's no secret that Meghan Trainor has some deep country roots, but she's about as country as Taylor Swift's latest album in comparison to these 5 guys! Meghan's debut his goes grass roots in Home Free's vocal tribute.
Ed Sheehan's 'Sing' by Voctronica
India's first "all vocal orchestra", Voctronica, have used their fusion of Indian classical, pop, blues and rock vocalists to deliver a very unique spin on the track that got 80,000 people topless at Wembley Stadium in 2014!
Bastille's 'Pompeii' by Redefined Accapella
Bastille's biggest hit to date is a perfect candidate for the a cappella treatment, and this group definitely did the track justice. Loads of effort has gone in to the Glee-meets-The-Da-Vinci-Code video, which leave us very impressed.
Avicii - 'Wake Me Up' by Home Free
Another acca-mazing act that's impressed us so much we've included them twice. When we saw Home Free covering ANOTHER of our Summertime Ball 2015 performers we just HAD to give it a watch.
Britney Spears medley - duncandoo
We don't know what we love more about duncandoo's video, it could be the fact that he managed to include EVERY SINGLE ONE of our favourite Britney tracks, or it could be the fact that he even included the random Titanic bit from 'Oops I Did It Again' in a Scottish accent. Yeah, must be the accent.
Bonus video!
Not *technically* an a cappella cover, but Jessie J's music video for 'Flashlight' is taken straight from Pitch Perfect 2 - and even features Fat Amy (who is one of our favourite movie characters EVER!)