Chart Update: Little Mix Prepare To Defend Their No.1 Spot For The First Time
16 July 2015, 06:30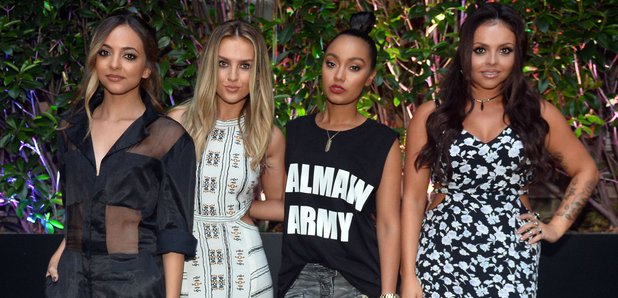 Little Mix brushed away ALL the competition last weekend as they went straight to No.1 with ease. However the question is, can they hold on for a second consecutive Sunday?
Belgian DJ Lost Frequencies lost his No.1 spot and fell down to No.4 in our countdown last weekend. Both Years & Years and Sam Feldt gave us an impressive battle for No.2 however it was the 'Black Magic' beauties Little Mix who ran away with the top prize.
This weekend we'll have to keep and eye on John Newman's new release 'Come And Get It', as well as ALL the hottest dance tunes filling up the top ten right now.
Let's have a look at the tracks with a chance of bagging themselves the next Vodafone Big Top 40 No.1 single:
The CURRENT No.1: Little Mix - 'Black Magic'
Who ever really doubted them? Jade, Perrie, Jesy and Leigh-Anne practically OWNED the chart on Sunday with the release of 'Black Magic'. Can the fantastic four hold onto the No.1 spot for a second week, or will they crack under the pressure?
Watch the incredible moment Little Mix found out they were No.1
Lost Frequencies - 'Are You With Me'
You can never count a former No.1 out of the race. The Belgian DJ beat Years & Years two weeks ago to the top just minutes before lockdown, can he leapfrog the competition again?
#SongFact:'Are You With Me' is a remix of a song by the same name by country singer Easton Corbin.
John Newman - 'Come And Get It'
We've been waiting for this for a LONG time. It's been two years since the release of John's debut album, 'Tribute', and we are FINALLY getting some new music from the slick-haired superstar.
> 8 Times John Newman's Hair ACTUALLY Stole The Show
Years & Years - 'Shine'
The trio's debut album is here! We've been waiting for the release of 'Communion' for some time now and it looks like YOU have too! The boys grabbed 2nd place last weekend and will be hoping to knock Little Mix off their perch this Sunday.
> Years & Years Singing Beyonce's 'Sweet Dreams' Will Send ACTUAL Shivers Down Your Spine - WATCH
Sam Feldt feat. Kimberly Anne - 'Show Me Love'
Dutch DJ Sam Feldt bagged an impressive No.3, just behind Little Mix and Years & Years, on Sunday. Can he go one better and clinch pole position?
Remember to #KeepItCapital at 4pm on Sunday to see who will be battling for the top spot on the Vodafone Big Top 40.