Strangeways Mill Destroyed In Fire
15 August 2018, 12:10 | Updated: 15 August 2018, 12:15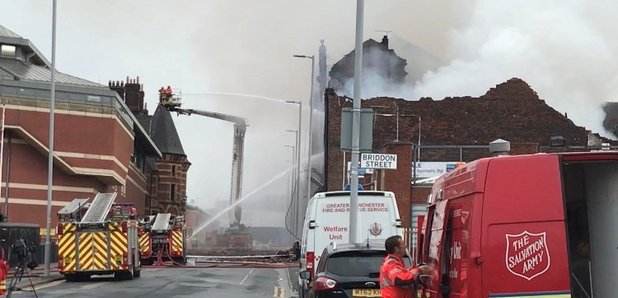 The owner of one of the businesses in a mill destroyed by fire near Manchester's Strangeways Prison says he's lost everything.
Mohammed's run a wholesale household item firm for the last 5 years. He says " There's nothing, it's all gone, all stock gone, our transport is there, all the IT equipment, files, office, everything"
Firefighters are tackling a huge blaze at a mill close to Strangeways prison in Manchester.
10 fire engines were sent to the scene on Southall Street at 4.51am this morning with plumes of thick black smoke seen across the city.
The building is right next to Manchester Prison but it hasn't been affected. Two parts of the mill have collapsed and the building will now be demolished.
The fire comes just over 24 hours after a blaze ripped through another mill in Greater Manchester, with families forced to evacuate their homes in Greenfield Lane, Rochdale, on Monday night.
Incident Commander, Group Manager Tony Bryan said: "This is the second large-scale incident that our firefighters have responded to overnight and I cannot thank them enough for their hard work and response at both incidents.
"They have done a fantastic job in protecting neighbouring and adjacent properties and they are working hard to prevent further fire spread. The last 24 hours has been a challenge for our crews but they have done themselves, and the Service proud.
"I would also like to thank all of our partners. As a multi-agency team we have been able minimalise disruption to the local area and businesses.
"Following on from our inspections of the building this morning, we anticipated that parts of the building would collapse, which is has so we have ensured that we have the tactical plans in place to ensure the safety of our crews.
"We also have a building inspector on site who has deemed the mill to be unsafe and we expect the mill to be demolished this afternoon. We have made significant progress since this morning and have been able to scale our resources back slightly. I hope that once the building has been demolished, we will be able to target the hard to reach areas and pockets of fire."