Sharp rise in wildfires
8 October 2018, 06:12 | Updated: 8 October 2018, 06:14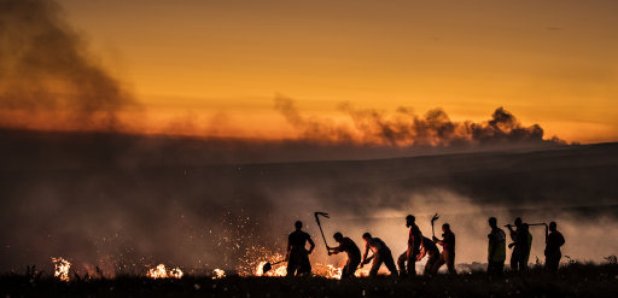 Firefighters have warned they are under-funded, short-staffed and ill-equipped to deal with an increase in wildfires as new figures show the number of blazes on open ground this summer was more than double the average of previous years.
At least 25,000 grass and wildfires were tackled by fire services between May and July this year - more than two thirds of which were started deliberately, according to a new investigation by the Press Association.
They include the fire at Winter Hill in Lancashire which covered seven square miles - roughly half the size of Blackburn - and a similarly large fire at Saddleworth Moor near Manchester, which saw firefighters appealing to the public to donate sun cream, bug spray, hats and socks to make up for the shortfall in budgets.
Soaring temperatures this summer, combined with weeks without rainfall, turned large sections of the country into a tinderbox as fire services were stretched to keep blazes under control.
A third of the 40 fire services which shared their data saw the number of grass and wild fires they attended triple when compared to the average of previous years.
Responding to the figures, a spokesman for the Fire Brigade Union said: "The growing risk of grass fires represents another strain on the dwindling resources of fire and rescue services currently experiencing severe budget cuts across the country.
"Fire services do not receive enough funding to respond to an increase on this scale."
A Home Office spokesman called the efforts of firefighters this year "astounding", adding that fire services have the required support and equipment "to fight these kind of fires".
The figures, obtained from 40 of the 50 fire services under Freedom of Information requests by the Press Association, also show:
- 70% of fires were started deliberately, of 15,981 where a motive was recorded.
- Where a source was stated in the figures, 11% were caused by a natural occurrence, 17% were caused by smoking materials such as lighter or cigarette, and 38% were caused by a naked flame, like candles or matches.
- 11% were reported in a domestic garden, nearly half of which were in London.
- 60% took place on an area less than 20 square metres - roughly two parking spaces - of 3,926 where an area was recorded.
- Greater Manchester Fire Service recorded the biggest increase in the number of fires with a 326% increase on the average for 2014 to 2017.
As well as asking for donations, the Manchester and Lancashire fire services had to ask the public to lend their vehicles so supplies could be delivered to fire crews battling the blaze on Saddleworth Moor, the FBU said.
The FBU spokesman continued: "Does that sound like a properly resourced fire service? We also had reports of firefighters working for 17 hours straight to get the wildfires under control. That is simply not good enough."
Large sections of the country went without rain for months this year, and satellite imagery showed the usually green image of the verdant British Isles turn to a dry yellow and brown.
Chris Lowther, operations lead at the National Fire Chiefs Council, called the summer's weather "exceptional" but added "we can't ignore the longer-term impact of climate change on fire services".
"We have seen an increase in the number of fires in recent years alongside a 21 per cent reduction in the number of wholetime firefighters since 2011. It is vital the communities fire services represent have confidence in their emergency services," he said.
The majority of fires were small, with more than half of those reported not growing any bigger than 20 square metres, or roughly two parking spaces.
However, more than 10% of fires in Mid Wales covered an area larger than 1,000, or four tennis courts. And 7% of fires in Greater Manchester were similarly large.
Karen Lee MP, shadow fire and emergencies minister, said: "Climate change is a very real and visible threat to our communities and landscapes. The threats are changing while the fire service's ability to respond is being degraded.
"The Conservative government are not taking the public's safety seriously. While large disasters such as the Saddleworth and Tameside fire devastated our grassland, fire services across the UK have seen swingeing cuts to their budgets and the total number of firefighters has been cut by nearly 12,000 since 2010.
"You can't keep the public safe on a shoe-string budget. If the Conservatives are not going to take the public's safety seriously, they should make way for a party that will."
A Home Office spokesman said: "The tireless efforts of firefighters to contain wildfires this summer have been astounding.
"We have made sure fire and rescue services have the support and equipment required to successfully fight these types of fires.
"We support FRSs by providing specialist capabilities for the largest emergencies, including high volume pumps and the National Resilience team of specialist experts. Soldiers have also been deployed to tackle these incidents."