Saddleworth wildfire treated as arson
4 July 2018, 13:21 | Updated: 4 July 2018, 13:23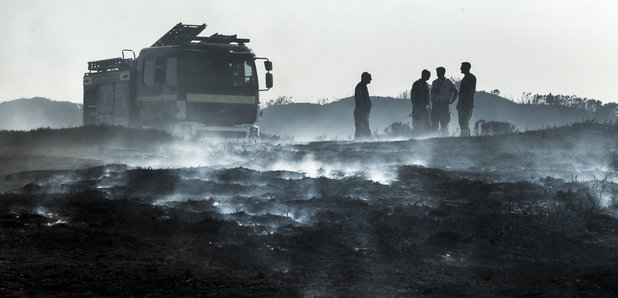 The moorland fire in Tameside is now being investigated as arson.
An investigation has been launched into the cause of the fire on Saddleworth Moor following initial enquiries with Greater Manchester Fire and Rescue Service (GMFRS).
At 8.19pm on Sunday 24 June, GMFRS were called to a report of land on fire near to Buckton Vale in Tameside.
Since then, firefighters have spent more than a week tackling the blaze in extremely challenging weather conditions.
Although now under control, the fire is continuing to burn despite the best efforts of all those involved.
Witnesses reported people lighting a bonfire at around 7.30pm on Sunday 24 June on the moors near the Stalybridge estate and officers are currently pursuing this as a possible line of enquiry.
Chief Superintendent Neil Evans, Territorial Policing Commander for Tameside, said: "The moorland fire is now being investigated as arson following information from local witnesses and initial inquiries."
"The scale of this fire is exceptional and we are treating it with the utmost seriousness.
"That said, we are under no illusion that solid evidence as to where the fire started and what was the cause, will not be easy to establish.
"The areas we have been able to look include dusty ash, burnt peat and grass and, because of this, our work with the fire service will be painstaking.
"We recognise the incredible support that the emergency services have received and we now hope that the local community can help us further by getting in touch with any information that could help our investigation.
"Were you on the moors last Sunday and did you see anything that could help us understand exactly what happened?
"If you know anything, no matter how small, it could help our investigation so please get in touch."
Interim Chief Fire Officer, Dawn Docx said: "Specialist fire investigation officers at Greater Manchester Fire and Rescue Service are working closely with Greater Manchester Police to investigate the suspected arson in the moorlands in Tameside.
"Investigations are currently ongoing with a multi-agency approach to find the source of the ignition. There is an area of interest that specialist officers are inspecting.
"Firefighters are working in extremely difficult and challenging circumstances in Tameside and I can't praise crews enough – they've done a fantastic job and are continuing to work hard to put out the multiple fires across the moorlands.
"I would like to urge the public to be really careful with barbecues, discarded cigarettes and glass bottles in the countryside, fires in the moorlands can spread rapidly so it's important that we take extra care."
Anyone with any information is asked to contact police on 0161 856 9353, alternatively call 101 or Crimestoppers anonymously on 0800 555 111.