More refunds for Northern passengers
17 December 2018, 06:02 | Updated: 17 December 2018, 06:03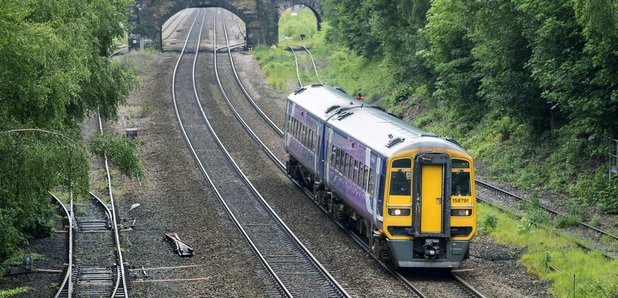 More passengers on Northern rail will now be able to claim compensation for late trains, the Government has said.
The Delay Repay 15 (DR15) scheme will be launched on Monday, allowing passengers to claim a quarter of the single journey price back if a Northern train is delayed between 15 and 29 minutes.
The scheme extends the existing compensation package where customers can claim back half the cost of the single ticket if delayed by more than half-an-hour and a full refund if more than an hour late.
Ministers promised that the scheme will offer customers quick and easy compensation regardless of the cause of delays or cancellations.
Rail minister Andrew Jones said the move was the "right thing to do for passengers" who must be compensated when things go wrong.
The DR15 is on top of the special compensation package announced for Northern and TransPennine Express passengers who faced chaos following a timetable overhaul earlier this year.
Northern services have been plagued by delays, disruptions and cancellations, with only about 40% of trains arriving on time between October 14 and November 10 this year.
Rail fares will go up by about 3.1% in the new year, with Northern set to increase its prices by 3.2%.
Transport for the North strategic rail director David Hoggarth branded the major disruption "unacceptable" and welcomed the new compensation scheme.
However, he said transport chiefs must now focus on getting the services back on track.
Mr Hoggarth added: "The major disruption passengers across the North have endured this year has been unacceptable, it's only right that they're compensated when things go wrong.
"This is a welcome move that will mean more people can claim now and in the future. Focus must now be getting services back on track."
More than 12,000 claims from Northern ticket-holders have already been submitted and more than £1 million paid out in compensation, the Department for Transport said.
Mr Jones said the department is investing £15 million in "enhancements" for passengers in the North.
He added: "Extending Delay Repay to cover 15-minute delays is the right thing to do for Northern passengers.
"Our absolute priority is delivering the reliable services passengers deserve, but when things go wrong people must be compensated fairly and quickly."
Rail industry tsar Richard George has been appointed to identify key underlying issues within the network and make recommendations that deliver improvements.
A new Rail Ombudsman has also been introduced for cases where passengers are not happy with a train operator's response to their complaint.
The extension of DR15 to Northern customers went live on Sunday and follows its introduction in 2016 on Govia Thameslink Railway and it will be rolled out across all other rail franchises as the contracts come up for renewal, the DfT said.
Richard Allan, deputy managing director at Northern, apologised for the inconvenience caused by the disruption to rail services earlier this year.
He said: "We are truly sorry for the inconvenience caused by the disruption to rail services earlier this year and have paid special compensation to more than 11,000 season ticket and non-season holders since the summer.
"Now, with the launch of Delay Relay 15, those customers who experience day-to-day delays will be able to claim the compensation they want and deserve.
"Our team works hard to deliver a consistent, punctual service but delays do happen and extending the scheme is the right thing to do for our customers."