City's Sterling says media fuels racism
10 December 2018, 05:32 | Updated: 10 December 2018, 05:34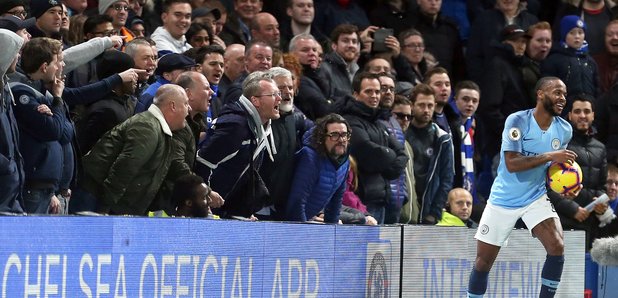 Raheem Sterling has accused newspapers of helping to "fuel racism" with the way in which they portray young black footballers.
Sterling's comments come after he suffered alleged racist abuse during Manchester City's defeat at Chelsea on Saturday.
Chelsea and the Metropolitan Police are investigating the incident at Stamford Bridge, which was highlighted on social media.
Sterling, 24, posted on Instagram on Sunday morning, referencing a story from January about City team-mate Tosin Adarabioyo reportedly buying an expensive house despite never having started a Premier League match.
"The young black kid is looked at in a bad light. Which helps fuel racism an(d) aggressive behaviour," Sterling wrote.
"So for all the newspapers that don't understand why people are racist in this day and age all I have to say is have a second thought about fair publicity an(d) give all players an equal chance."
Sterling received a barrage of abuse from home supporters as he retrieved the ball from behind the goal during the first half of the Premier League match.
The England international said he was not surprised by the behaviour of the fans but did not elaborate on what was said.
"I just want to say, I am not normally the person to talk a lot but when I think I need my point heard I will speak up," he posted.
"Regarding what was said at the Chelsea game, as you can see by my reaction I just had to laugh because I don't expect no better."
In his social media post, Sterling refers to headlines about Adarabioyo and fellow City youngster Phil Foden buying houses.
While the article about Adarabioyo focuses on how he spent £2.25million on a property without making a top-flight appearance, midfielder Foden, 18, is described as having "set up a future".
"You have two young players starting out their careers - both play for the same team, both have done the right thing, which is buy a new house for their mothers who have put in a lot of time and love into helping them get where they are," said Sterling.
"But look at how the newspapers get their message across for the young black player and then for the young white player.
"I think this is unacceptable, both innocent, have not done a thing wrong but just by the way it has been worded."
Kick It Out chair Lord Ouseley has called on the game's leaders to address the incident at Stamford Bridge and the issues raised by Sterling on Sunday.
He wrote: "What happened at Chelsea shows what is still going on in football.
"Where is (Premier League executive chairman) Richard Scudamore, where is (Football Association chairman) Greg Clarke, where is Chelsea's chairman (Bruce Buck) - they should have been talking out last night and it has to be dealt with at the top.
"We do not have any leadership at the top of the game to speak out, they rely on Kick It Out.
"We have already made comments about the way Raheem Sterling has been treated differently by the media. The print media often targets, not just black players, but all footballers.
"Raheem Sterling has received bad press over the last few years because of his lifestyle, and clearly, there are issues from potential stories adding to prejudice and I have every sympathy for him."
Ouseley added: "Players know if they are abused in any way they have to tell the referee. It was awful.
"All players know the referee is in charge and has a duty of care, and the referee can remove those people. It didn't appear to me he told the referee in the first place."
The FA released a statement on Sunday afternoon condemning any act of discrimination.
"We take all allegations of discrimination extremely seriously and will work with the clubs and the relevant authorities to ensure this matter is dealt with appropriately," the statement read.
"We strongly condemn all forms of discrimination and encourage all fans and participants who believe that they have been the subject of, or witness to, discriminatory abuse to report it through the appropriate channels: The FA, our County FAs or our partners Kick It Out."
Liverpool striker Rhian Brewster has described the alleged racism suffered by Sterling as "embarrassing" for English football.
The 18-year-old claimed his England team-mate Morgan Gibbs-White suffered racial abuse during the 2017 Under-17 World Cup final victory over Spain.
However, Fifa dismissed the claim because of a "lack of sufficient evidence".
"Another day another racist incident. Embarrassing for it be happening twice in two weeks in England. Just when you thought things had changed for the better... #LetsKickRacismOutOfFootball," Brewster posted on Twitter.
Former Manchester United defender Patrice Evra, who was racially abused by Luis Suarez in 2011, expressed his dismay at the incident.
"I saw what happened with @sterling7 yesterday....How does this happen still in 2018?!," the 37-year-old Frenchman tweeted.
"It doesn't matter what colour your skin is or your religion or what country you are from we need to be kind to each other. Love is so much more powerful than hate."
Sterling's comments about newspapers also received support from the Black Collective of Media in Sport.
A statement read: "BCOMS stands with Raheem Sterling and thanks him for raising the issue of how the media portrays black footballers and communities across the country.
"We hope this serves as a wake-up call not just for the newspapers, but all the media, and ask them to reassess how they treat Raheem and portray black sportsmen and women."