Major Grants
In 2011, 95.8 Capital FM's Help a Capital Child celebrated a record-breaking year and awarded 9 of our largest ever grants to charities. These have funded capital projects to help their work with disadvantaged children and young people living in London.
KIDS-Lady Allen Playground, Wandsworth, SW11: Help a Capital Child's second largest grant of £80,000 enabled KIDS to build a wheelchair friendly, accessible, aerial walkway with play structures underneath the adventure playground. This was launched on 16th July 2011. Have a look at their website >
Action for Stammering Children (ASC) Michael Palin Centre, Farringdon, EC1: £46,559 to refurbish and equip the 'Help a CapitalChild Group Therapy Room' for children and teenagers who stammer to develop their communication skills. On 27th July 2011 the centre was launched and guests got the opportunity to meet some of the young people who attended the course.
The course also gives the young people the opportunity to meet others who share similar experiences and difficulties, as well as improving their confidence.
Find out more about the ASC's work

 >
WAC Performing Arts & Media College, Belsize Park, NW3: £38,910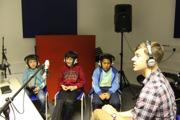 On 16th August 2011, 95.8 Capital FM presenter Rich Clarke directed the action at the opening of WAC Performing Arts new 'Inclusive FilmTechnology Suite' for young people with learning disabilities. The new suite is also available for young people of all abilities to use industry standard film making equipment and work together to create broadcast quality films. Rich also took the time to record a radio show with the children.
Barnet Young Carers and Siblings (BYCAS), North Finchley, N12 was awarded £35,188 to create the 'Capital FM BYCAS Lounge'.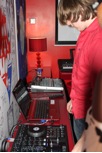 Here, the young carers can take a break from their caring responsibilities and get involved in a range of activities including music and art. This was launched (by former Capital presenter Roberto) on the 2nd September 2011. 


Sangita Patel, Barnet Young Carers and Siblings (BYCAS) Family Support Manager said: 'Young carers range from 5-17 years old and often live chaotic and unpredictable lifestyles. This lounge is an oasis of fun and positivity in their lives and provided facilities for them to learn new skills and promote creative and positive learning experiences."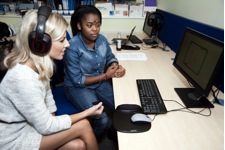 Dyslexia Action, Kings Cross WC1H was awarded with £52,710 to decorate, furnish and equip the 'Help a Capital Child Learning Room' with computer hardware, multi sensory software and furniture to create a learning environment best meeting the needs of dyslexic children and young people. This was launched on 2nd November 2011 with The Saturday's star Mollie King, who is also dyslexic, there to have a go at using the new equipment.
They have also created the Help a Capital Child Virtual Learning Site, an online virtual learning moodle, a secure site where students can log in and access study guides, learning software and receive advice on exams and interview techniques.
Ambitious about Autism-TreeHouse School, Muswell Hill, N10: Help a Capital Child's largest ever grant of £98,000 funded the 'Capital 6th Form Learning Stations' giving young people (aged 16-19) with severe and complex autism the opportunity to gain vocational skills in retail, art, music and animation and photography. This was launched in 22nd November 2011.
Jolanta Lasota, CEO of Ambitious about Autism, commented: "The Capital 6th Form Centre has provided pupils at TreeHouse School with a wide range of exciting activities and learning experiences. We are very excited about this new facility and thank Capital listeners for their generosity."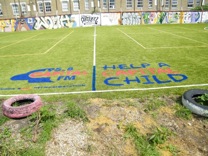 Weavers Adventure Playground, Bethnal Green, E2 was awarded £36,028 to lay a multi purpose pitch for local children from low-income families with limited access to open spaces to take part in sport.
ELHAP, Woodford, IG8 was awarded £19,991 to refurbish & furnish a soft play room for disabled children 


Robert Dighton, ELHAP Manager said: 'The room is an essential part of our adventure playground and is a firm favourite for our children. However our current soft room is so well used that it has become worn and urgently needed refurbishing. We are indebted to 95.8 Capital FM and Help a Capital Child for supporting our small charity.'