Win A Night Out With Your Mates At Red Dog Saloon Liverpool
Red Dog Saloon Liverpool
01:32
Love meat? Love a BBQ feast without the chance of rain? Get down to Red Dog Saloon for the tastiest place to eat in Liverpool.
Red Dog Saloon, an authentic American Bar-B-Q restaurant is coming Liverpool in May, and to celebrate their arrival we are giving you the chance to win a slap up saloon feast with up to nine of your mates!
Already renowned in London for its fat ribs, buffalo chicken wings, hickory smoked pulled pork and burgers, Red Dog Saloon Liverpool – situated on Bold Street - will be the restaurant's first northern location when it opens on Friday 5th May.
With a brand new menu using the best meat, flavoured with its special rub and cooked low 'n slow for 18 hours in smokers imported from Oklahoma. There's also an extensive selection of cocktails, bottled beers, tequila and bourbon, a bottomless brunch menu and belly-busting food challenges.
Win food and drink for you and your mates at Red Dog Saloon Liverpool!
Be the greatest mate ever by wining a night out in succulent meat heaven, with delicious drinks! For the chance to win a massive £500 worth of Red Dog Saloon treats answer the question below before 23:59pm on Friday 5th May 2017.
Think you've got what it takes to rise up and take on the Red Dog Saloon Challenges?
Take on 'The Devastator' – a massive 18oz of steak burgers, 200g of pulled pork, six bacon rashers and six slices of American cheese sandwiched in a bun, with fries on the side. Eat the lot in ten minutes to beat the challenge, do it in 2 minutes 30 seconds to beat the record...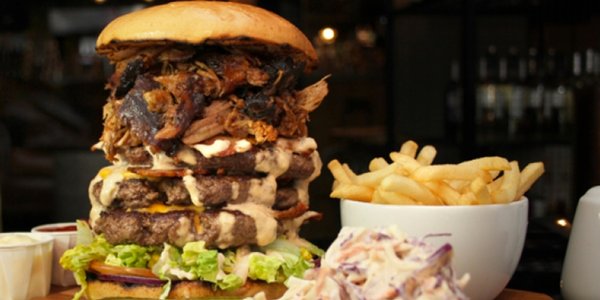 If that doesn't take your fancy, why not try a hotter challenge – eating six of Red Dog Saloon's hot wings in 10 minutes? Each sauce-drenched wing contains the infamous Naga Viper chilli, a pepper 250 times hotter than a jalapeno. During the challenge you can't leave the table, nor can you drink anything – you just have to let it burn. Current record stands at an incredible 25 seconds.
Of course, you can also try these dishes at your leisure, along with many other tender, juicy and tasty options on their brand new menu.
Bold Street, Liverpool