December's Hottest MUST-SEE Pictures From The World Of Music
4 December 2018, 13:04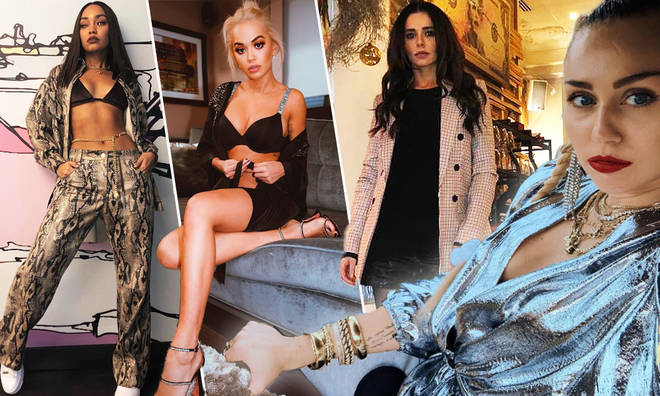 We've somehow made it all the way to the festive season of 2018 and you know what that means, all your favourite celebs are getting seriously Christmassy and we've got all of their merriment right here for you to see.
It's officially the Christmas month, and we're already so far into our favourite Christmas playlists and advent calendar, ready to see this year's hottest artists get on the Jingle Bell Ball stage.
Rita Ora Is 'Dating Former Spider-Man Actor Andrew Garfield'
There's no one that loves going all out in the festive season than celebrities, so let's take a look at what they've been up to.
Cheryl Cole is feeling festive after flirtatious Michael B Jordan meeting

Cheryl Cole is feeling festive on Instagram.

Picture: Instagram

We're not surprised Jingle Bell Baller Cheryl is feeling the festive season this year, as she's made her top 10 comeback with Love Made Me Do It AND got to sit beside Michael B Jordon on a chat show, so, not a bad end to 2018 really!

Liam Payne shoots his shot at Kourtney Kardashian on Instagram

Liam Payne photographed on Halloween by Brooklyn Beckham.

Picture: Instagram

Imagine you're at a party and you turn around to see Liam Payne being photographed by Brooklyn Beckham... we can only dream. We're so excited to see Liam at the Jingle Bell Ball, who was caught commenting 'wow' on one of Kourtney Kardashian's Instagram pics this week, shoot your shot Liam!

Leigh-Anne Pinnock's

Little Mix's Leigh-Anne Pinnock's snake skin two piece is giving us life.

Picture: Instagram

Olly Alexander will quit music if he isn't put on the Spice Girls' tour guest list

Years & Years star Olly Alexander looks all kinds of ready for winter.

Picture: Instagram

Besides looking incredibly winter ready, Olly has hilariously declared he'll be quitting the music industry if he isn't added to the Spice Girls' tour guest list, telling a tabloid: "Babes, I don't buy tickets anymore... If I don't get guest list for the Spice Girls tour, I'm quitting the music industry. I'm putting that out there now". LOL.


Rita Ora is 'secretly dating' Andrew Garfield after admitting she doesn't have a 'type'

Rita Ora slayed at the Victoria's Secret fashion show 2018.

Picture: Instagram

Giving the Victoria Secret angels a run for their money, Rita Ora took to the catwalk to perform 'Let You Love Me' at the annual lingerie show, it's being reported that the singer is secretly dating actor Andrew Garfield although she says she doesn't have a 'type'.

Dalton Harris revealed to have won X Factor with massive 40% of public vote

X Factor winner Dalton Harris with mentor Louis Tomlinson & star performer James Arthur.

Picture: Instagram

Dalton was crowned champion of X Factor 2018 and when he popped by to chat, he told us he 'absolutely knows' the musical direction he wants to head in and praised Louis for being a fantastic and caring mentor. He also told us James Arthur urged him before they went on stage to 'make sure they sing the song twice' as it the champion always sings twice, amazing!

Miley references her burnt down Malibu home in 'Nothing Breaks Like A Heart'

Miley Cyrus shares a behind the scenes snap from 'Nothing Breaks Like A Heart' video.

Picture: Instagram

Sharing a sultry snap from BTS of the 'Nothing Breaks Like A Heart' music video, she teases us with some of the elements of the 'old' twerking Miley, whilst lyrics in the new tune reference her and Liam Hemsworth's burnt down Malibu home, with: "This burning house, there's nothing left, it's smoking, we both know it".
>Grab Our App Here To See Little Mix Perform At The Jingle Bell Ball