The Hell Month That Is January Is STILL Not Over & These People Are So Done With It
30 January 2018, 15:49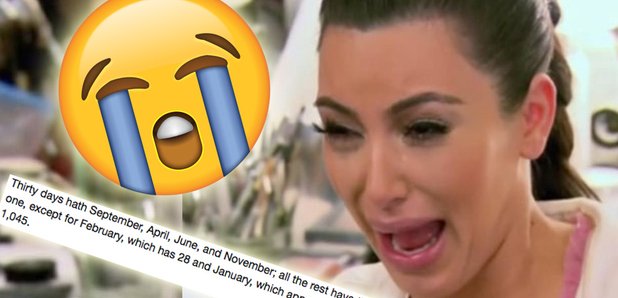 Seriously, why has this month felt about eight weeks long?!
In all our lives we've not experienced a month that's felt as long as this January has. Seriously, there have been FIVE Mondays in January 2018 and we are fully DONE WITH IT.
And it turns out we're not the only ones struggling with this never ending month - you guys are too.
It's longer than the longest of things.
January has been longer than the lord of the rings trilogy - extended edition

— Steph. (@StephanieSarahW) January 30, 2018
It's literally unbelievable it's STILL not February yet.
We still in January?!

— ShondaG (@_shondaaaaG) January 30, 2018
Surely we're like a quarter of the way through 2018 by now?
is it just me or has january lasted like 3 months

— timber (@timberhodges) January 30, 2018
What date are we on now?
It literally feels like January 47th.

— M (@Mahhraalh) January 30, 2018
How many more days? No, seriously, HOW MANY MORE.
Thirty days hath September, April, June, and November; all the rest have thirty-one, except for February, which has 28 and January, which apparently has 1,045.

— Aly Ellis (@alykeves) January 30, 2018
Getting paid a few days early in December hasn't helped TBH.
Still January, still not pay day pic.twitter.com/HyddkWbMCP

— D (@Dom_Founded) January 29, 2018
There's probably a good explanation for this inordinately long month though...
January 2018 has been 75 years long but also mom jeans are back, Will and Grace is on the air, and Primus is touring again so I assume there's just a time rip. Nbd.

— Motherbox (@PunkRokMomJeans) January 30, 2018
At least it's NEARLY over...
After 6 months January is finally coming to an end tomorrow. Glory be to God

— #InTune (@Fourens_) January 30, 2018
There were way too many Mondays in this month for our liking.
It makes sense that this January has five Mondays, given that it's basically the Monday of the year.

— Mr. Drinks On Me (@Mr_DrinksOnMe) January 30, 2018
But hey, there are SOME upsides.
yo if the rest of the year feels as long as january we're gonna live forever lol

— Hasan Piker (@hasanthehun) January 30, 2018
Roll on February.