7 Celebrity Passion Projects Which Ended Up Making Them The Big Bucks
4 September 2018, 14:14 | Updated: 18 August 2022, 15:51

Promoted by eBay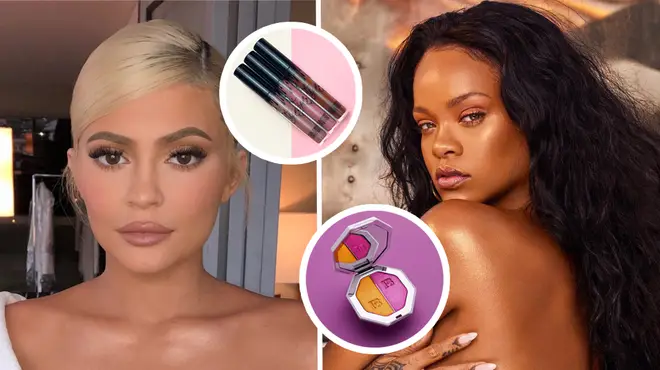 Celebrities have found all sorts of ways to top up their bank balances these days!
In the world of showbiz, it seems like there isn't a stone unturned when it comes to business opportunities. It's not enough to just sing or act these days... celebs are creative powerhouses who pour a lot of passion into their side-projects.
We're not just talking about a singer attaching their name to the latest headphones to make some quick cash, we're highlighting those celebs who put their blood, sweat and tears into a product just for you guys.
Kylie Jenner and her incredible lip kits.
It shouldn't come as a surprise to see the very first name on this list of innovators is reality star and all-round business mogul Kylie Jenner. After her appearances on Keeping Up With The Kardashians, Kylie took full advantage of her newly found fame and began building her empire. Her signature lip kits from her Kylie Cosmetics range have racked up the million for the Insta-icon and it doesn't look like slowing down any time soon.
Rihanna and her iconic Fenty Beauty range.
Kylie isn't the only celeb to cash in on a make-up range. Riri saw a gap in the market for make-up with a wider range of shades and it took off in a big way! Following up with her own lingerie range too, Rihanna's business outings have made her one of the most successful artists to dip her toes into the world of business.
Lady Gaga and the 'Haus Of Gaga'.
Lady Gaga is a creative force to be reckoned with. We know that she's brought out music, documentaries and books. However, what some don't realise is that she also runs 'Haus Of Gaga', a creative team which specialises in clothing, props, stage sets, and makeup. Iconic.
Beyoncé and her 'Ivy Park' clothing range.
Bey and fashion go together better than spaghetti and meatballs. So when the Queen launched her Topshop collaboration 'Ivy Park' back in 2016, everyone knew it was destined to become an instant hit with all fashion-lovers across the globe. If you've got yourself any Ivy Park gear you'll know exactly why it was such a success.
Kanye West and his Yeezy shoes.
When Kim Kardashian is able to model your new sneakers for free, you're probably doing pretty well in the market. Kanye's 'Yeezys' have been the most sought after trainers in the world for years now and with new editions constantly rolling out, we can only begin to imagine the amount of cash Ye is pocketing.
Pharrell's 'Billionaire Boys Club' fashion line.
Pharrell... the coolest man in the universe is bound to have some type of clothing line we can all fight over right? Correct! Skateboard P's 'Billionaire Boys Club' fashion line has taken on a life of its own since the singer launched it all the way back in 2005. With everything from hats to sneakers, there isn't a single thing you can't get with the signature astronaut logo in it.
Jay-Z and his insanely flash champagne.
Rappers are awesome, that's just a fact at this point. In no other profession could you sing about how great you are and get away with it. However, when you're at a bar drinking champagne YOU make, we think that gives you the licence to brag a little bit. Jay-Z can do exactly that with his now iconic 'Ace Of Spades' champers in collaboration with Armand De Brignac.
Head over to eBay and find everything you need for the things you love most! Plus, win £1,000 to spend on your passions thanks to eBay - click here.