WATCH: In Other News, A Hairdresser Is Cutting Peoples Hair With An Axe In The Most Terrifying Haircut Imaginable
26 April 2017, 10:58 | Updated: 4 December 2017, 10:46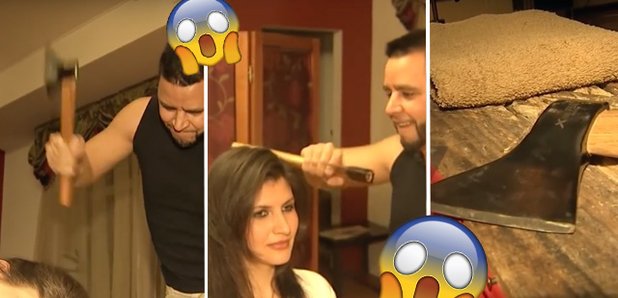 PEOPLE ARE PAYING HIM FOR THIS!?
Some people have a real aversion to getting their haircut - is it going to be too short? Will it be wonky? Will I regret this decision for the rest of my life…?
Followed by the age old argument, "but I've been trying to grow my hair so it feels counter productive to have it cut".
Just us?
Well, now, a Russian hairdresser has taken haircuts one step further in what we can only describe as the most terrifying haircut we have ever seen.
It makes Sweeney Todd look like child's play.
Slight exaggeration.
The hairdresser claims that it's easier to cut hair with an axe instead of scissors.
It may well be easier BUT GET THE HELL AWAY FROM OUR HEAD WITH THAT GOD DAMN MASSIVE AXE.
"I just took some basics of geometry, combined it with my profession and shifted the angles into slightly different variations", he explained.
Sorry, WHAT?!
Look. However you want to explain it, you cut people's hair with an axe.
No thank you. Goodbye.
You May Also Like...