Zara Put Pepe The Frog On A Denim Skirt & Twitter Isn't Happy Due To Its Racist Connotations
19 April 2017, 16:06 | Updated: 4 December 2017, 10:46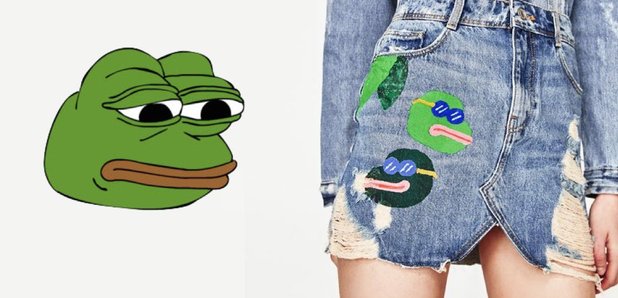 Uh oh...
It seems that everyone is hating on high street store Zara right now and it's for a bit of a surprising reason.
You might remember that the brand came under fire a few years back for a certain striped t-shirt which many thought resembled that of a Star of David badge.
Well, now, shoppers are furious with the store after they released a denim skirt with a painted frog on it - a frog which looked a lot like Pepe The Frog… a meme which was turned into a hate symbol used by white supremacists.
The denim skirt, complete with two painted on frogs, appeared on the website with a whole load of other painted denim.
Many other designs were inoffensive with denim jackets emblazoned with 'nope' and a couple of painted on tigers. You know, the normal.
But then there was Pepe. A frog that looked a lot like the particular frog which was first created by Matt Furie in 2005, which was later used by hate groups and classified as a hate symbol in September by the Anti-Defmation League due to its racist and anti-Semitic usage.
Naturally, Twitter responded and people were not happy.
This is bad pic.twitter.com/8a2cbx0T70

— meagan(@meaganrosae) April 18, 2017
hmm Pepe on a Zara skirt. wtf?

— Chris Carella (@ccarella) April 18, 2017
Anyone who's surprised about Zara's Pepe the frog skirt probably doesn't remember this. I do. pic.twitter.com/GDaWmXSJng

— OhNoSheTwitnt (@OhNoSheTwitnt) April 18, 2017
Just googled "Zara Pepe the Frog skirt", because this website and 2017 are bad

— kait f (@kaitlfyden) April 18, 2017
@ZARA Seriously? Pepe the Frog? Alt Right? That's who your target customers are? Me and my wallet will be shopping elsewhere.

— Gina (@Gina02301885) April 19, 2017
You May Also Like...