People Think Kim Kardashian's A Communist After Her Latest Outfit Choice
28 December 2016, 14:14 | Updated: 4 December 2017, 10:46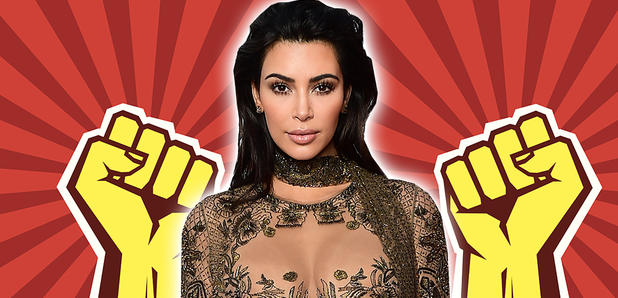 Well at least she's not part of the illuminati, right?
The world's most popular socialite was spotted taking our favourite sassy toddler, North West, to the Los Angeles Ballet School on Christmas Eve - but it wasn't the 3-year-old who stole the show this time, it was her mum's outfit.
Now you're probably expecting us to say she was wearing something revealing with a comment like "does she even own any clothes?" - but no, she was actually wearing a massive, baggy hoodie.
#TheWests are back in action! They were seen at the #LosAngelesBalletSchool pic.twitter.com/YdWuhzBLEE

— TheShadeRoom (@TheShadeRoom) December 24, 2016
Nothing wrong with comfy clothes at Christmas, but there's something a little more eye catching about this sweater...
Yeah, that's the logo for the Communist Party.
Obviously, one of the planet's highest earners of 2016 couldn't ACTUALLY be a communist (considering everyone thinks she's BFFs with the Illuminati), so what's going on?
Let's play a game.

If anyone finds something that's more ironic than Kim Kardashian wearing a $770 communist hoodie, they win the Internet. pic.twitter.com/r3tovwSFVE

— stuart (@jungleplatoon) December 27, 2016
Haha Kim Kardashian is such a communist icon isn't she ? Haha she's totally helped the working classes by wearing that jumper well done Kim

— Flex Flexington (@glasssomilk) December 26, 2016
At the age of 36, Kim Kardashian founded the Communist Party of the United States. https://t.co/SVM16f24XI

— DE (@samw_95) December 26, 2016
kim k literally wore a sweatshirt with the USSR flag on it on christmas eve shortly after her husband had a meeting w/ trump...... ok

— c (@sadbootyful) December 24, 2016
Kim Kardashian is a communist apparently????

— Punk of the New Year (@weebpunk) December 27, 2016
Yeah, so as much as we'd love to spread that Kim's turned to the red side, she's actually just rocking a $770 hoodie from Russian fashion retailer SVMOSCOW.
Now can we just get back to discussing how Beyoncé runs the world?
You May Also Like...