People Are Kicking Off On Twitter About How Impractical Those Clear Boots That The Kardashians Love Are & It's Hilarious
16 March 2017, 13:55 | Updated: 4 December 2017, 10:46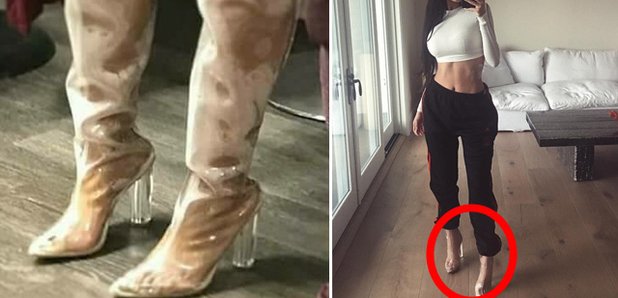 Worst fashion trend, ever?
You know those see-through plastic boots that all the Kardashian's are wearing?
Well, they look hella cool, yes, but we've always thought that they're not exactly practical. Unless you're immune to sweat (gross, we know…) SURELY they get steamed up?
Turns out, our concerns were well placed because people have been taking to Twitter to express their annoyance at such issue.
For the record: They're not even remotely glamorous IRL.
Not only do you have to use an obscene amount of body butter to get the shoe on your foot in the first place - which is just what you want to do before you trek to work, right? - you then have to contend with the fact that they will fall victim to condensation within time.
People have expressed their experiences on Twitter and revealed that the trapped heat turned the shoes into greenhouses which is obviously SUCH an attractive look.
Although, fun fact: the shoes do come with holes in the side for ventilation.
Feet steaming up like some snow crab legs pic.twitter.com/4SjjV4CAEV

— You trollin? (@Well_Damn_Jesse) March 7, 2017
i wish I could wear my clear boots more but they steam up :(

— lil braty (@ChaleiEanaj) November 17, 2013
Those clear Yeexy boots are cute (to me). Can't do it, feet get warm and shoes start to look like a steam room

— Issa Poont (@Tendin2) September 24, 2016
my clear boots are steamy on the inside

— madeline klomp (@madddiepattie) February 19, 2014
We think we'll pass on this weird trend.
You May Also Like...