From Live Sessions To "Tampon?" - The Most Watched Videos Of 2016
26 December 2016, 08:00 | Updated: 4 December 2017, 11:00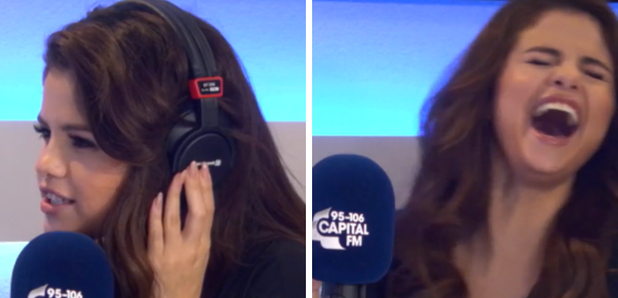 We've had everything from popstars confusing sanitary products with Yorkshire Puddings, to rumoured snogs and epic covers.
What a wild 12 months that was!
While the news may have been mostly doom & gloom, we were having megalolz with our fave stars up in Capital Towers!
> Capital's A-Z Of 2016 - Everything That Mattered Over The Past 12 Months!
From world exclusive live session covers to popstars having the odd brain fart - if the cameras were rolling, we got it!
1. Lukas Graham Cover Adele's 'Hello'
The Danish folk-rockers dominated the chart in early 2016 with their balled '7 Years', but it was their cover of Adele's anthemic 'Hello' that you just couldn't get enough of watching.
2. Selena Gomez Confuses A Tampon With A Yorkshire Pudding
Fortunately it was just the WORDS she got mixed up... She won't be chomping on some Tampax with her next Sunday roast.
3. Get To Know Fifth Harmony With Roman
Okay, so after the dramas of December 2016, this video might be a *little* out of date... #awks
4. YouTubers Cover Drake's 'One Dance'
Because Drake STILL has us waiting for a 'One Dance' video, we decided to go and make our own, but with a twist... We used some of the BEST YouTube talent to do it!
5. Pokemon Go!: Celeb Edition
Remember when the entire WORLD was obsessed with Pokemon Go!? Well, we decided to improve on it... by giving you the chance to catch your fave celebs!
6. Fifth Harmony Sing Their Top 2016 Tunes
Way before all the dramz of December 2016, the 5H ladies stopped by to belt out some of their fave tracks of the year - and it was everything!
7. Craig David Covers Little Mix's 'Secret Love Song'
SLS was one of the biggest heart-wrenchers of 2016 - but Craig managed to work his magic and transform it into a garage banger!
8. The Jingle Bell Ball... Pool!
When you're interviewing the world's biggest celebs in a ball pool, why WOULDN'T you challenge them to empty it in as little time as possible? #carnage
9. Matt & Freddy: Bromance Or Romance?
When Matt Terry finished singing his X Factor winner's single, his fellow finalists stormed the stage. The rumour mill started up when people were CONVINCED that BFF Freddy planted a cheeky one on Matt's lips... but did that *actually* happen? (Spoiler: no... but it sorta looks like it)
10. #Chiam's Humble Beginnings
Aww Cheryl & Liam! Our fave couple of 2016 had actually met almost a DECADE before. Footage re-emerged of Liam's first ever X Factor audition, and there were deffo sparks flying then!
You May Also Like...