Is It Finally Time To Ban Phones At Gigs?
7 February 2018, 17:46 | Updated: 8 February 2018, 09:45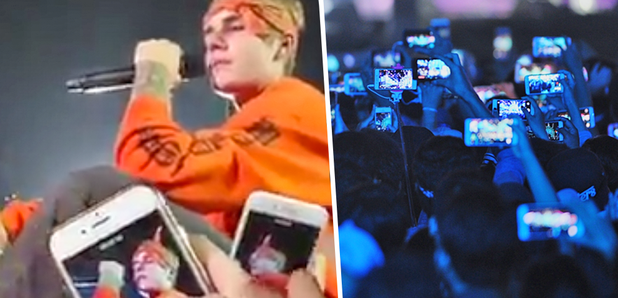 Some people absolutely hate them, but they've provided us with some of the most incredible memes and videos over the years - so is there a place for mobile phones at gigs?
If you've been to a gig in the last ten years, there's one thing that you'll have 100% seen - people filming on their phones. No matter what genre, what country, what size crowd, the swarm of phone screens recording the entire show is an inevitability at live music shows everywhere.
But so many people hate fans recording the show on their phones and there have been many calls by artists and fans alike to ban phones from gigs, so who are these people recording shows and why do they do it?
> 16 iPhone Tips & Hacks To Make You Fall In Love With Your Phone Again
With artists like Alicia Keys and Jack White opting to request that their fans put their phones in a Yondr pouch which is locked by security until the end of the show, could we be witnessing the end of fan footage that has provided so many amazing memories over the years?
Let's take a look at some of the reasons people record gigs on their phones...
Gotta Get Those Social Media Likes
Since the creation of social media, people have been desperate for likes and validation from their peers and pretty much anyone else on the internet. Sharing a nice clip of a Beyoncé gig that you just attended is a sure fire way to get those likes popping and show people how cool you are!
Capturing Precious Memories
How will you remember that you went to see Ed Sheeran live if you haven't recorded 99% of the show on your phone? As if you're gonna remember the show as well as the 2787643 other things you've got going on in your life, right!?
Going Viral = Hero Status
Much like gaining validation from your peers, everyone wants to go viral these days. If #SelfieKid can do it then why can't we? Managing to get the perfect clip of Harry Styles slipping on stage could see your tweet spread like wildfire and that makes you an instant legend.
@Harry_Styles did you have a nice slip? pic.twitter.com/oiqVKRIoAv

— daisy (@idkdais) October 30, 2017
But whilst those are some perfectly acceptable reasons (kinda) for wanting to use your phone to film live music events, there are plenty of reasons why people really wish you wouldn't...
Forcing Everyone Else To Watch The Show Through Your Phone
Whilst you stick your arm in the air to ensure you really capture Sam Smith's emotion, you also end up blocking the view of pretty much everyone behind you, meaning they're forced to either try and see past your arm or watch through your phone. Thanks for that.
15 Second Videos On Instagram Stories - Seriously
If you've uploaded the whole performance onto YouTube in HD and with perfect sound, fair play, but most people are getting 15 second clips to share on their Insta Stories with everyone who isn't there. Who wants to watch a million 15 second clips in a row? Nah mate.
Do You Really Ever Watch Them Back?
If you're filming shows on your phone to capture amazing memories, do you ever watch them back? If so, how many times have you thought 'oh that's got rubbish lighting and the sound is terrible, so I'll get rid of that to make space on my phone'? Exactly.
Next time a musician complains about phones at their gig, show them this clip of #StevieNicks filming #HarryStyles in Sydney on her iPhone pic.twitter.com/3vio5rEaAP

— Danielle McGrane (@DanielleMcGrane) November 27, 2017
With plenty of positives and negatives from a fan perspective, what do the artists think about people filming at their shows? Well Adele once called out a fan and asked her to stop filming, so it's clear not all performers are fans.
Then there's the Yondr pouch that some music stars and even comedians have started using at their shows...
I went to see @chrisrock tonight and it was great. I was sooo impressed by the little phone cases. How refreshing to not see 10,000 phones and people actually talking to each other. It's the future! pic.twitter.com/lDrA5oY5QR

— Amy Macdonald (@Amy__Macdonald) January 24, 2018
So it seems that the debate over mobile phones at gigs will continue for a long time yet, but what are your thoughts on the whole thing?
Are you someone who likes to film shows and share your footage online later or do you hate it when you see a sea of phone screens recording the stage and blocking the view of the show you just paid loads of money to go and watch?
Get your voice heard in the debate over on our Facebook and Twitter.
> Download Our Fancy New App For all The Latest Music News!
Whilst you're here, check out this iconic Justin Timberlake performance when a mobile phone caused a viral sensation...