WATCH: We Got All Your Favourite V Festival Artists To Star In Our Facebook Live Videos...
21 August 2016, 17:00 | Updated: 21 August 2016, 20:43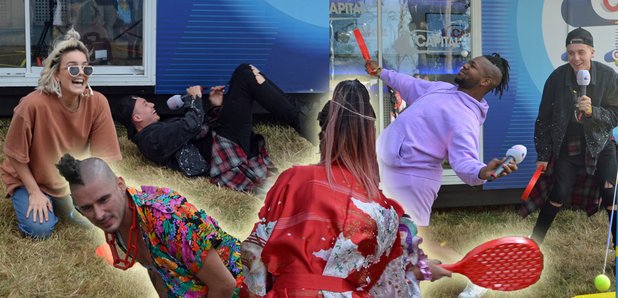 From DNCE to Anne Marie and more, ALL the fun and games happened on Facebook Live!
Everybody knows all the BEST festival action happens backstage - so when we had all the biggest stars in music joining us backstage at V Festival, of COURSE we got them involved in a few festival-themed games...
Legendary DJ David Guetta joined Roman Kemp backstage at V - and revealed he got seriously star struck meeting the French football team!
It's always fun when Little Mix stop by - and the girls talked about stalking boys on Instagram (who hasn't been there?) and whether they would rather never sing or never dance again in an intense game of Jenga.
Bebe Rexha spilled ALL her biggest secrets in a game of Jenga... including the fact she would pick Zayn Malik over Justin Bieber because "there's something sexy about Zayn!"
Big Sean came to hang out backstage... and didn't realise he was broadcasting live so drop a few swears! (He apologised afterwards, DW!) He also admitted that there MIGHT be some big names on his next album too...
(18+ contains some strong language)
When Anne Marie joined Roman, he showed her his best poo face... and then the pair engaged in a VERY intense game of Swing Ball in Capital's exclusive backstage area... even managing to break the game and hit the cameraman in a very delicate place!
When Zara Larsson joined Roman for her turn on the Swing Ball game, he got a little too excited... and managed to hit her on the head with the ball. Eek!
V was Troye Sivan's first ever UK festival... but he certainly didn't disappoint - even if his game of Swing Ball with Will Manning left a little to be desired! More practise needed, lads!
Roman tried to hook up JoJo with WSTRN's Akelle when she stopped by for a chat on Facebook Live, and he just happened to walk past after he'd admitted he would be too scared to ask her for a collab!
Craig David stopped by and told us that there's something for all of his fans on the new album - and we're really looking forward to it!
Fleur East admitted she was totally repping for Capital with her new blue hair - and she was looking SERIOUSLY gorgeous, as per usual!
John Newman revealed how he managed to sneak in to V Festival on the back of a motorbike wearing a blacked out helmet so nobody knew who he was - and what it was like working with the genius that is Ed Sheeran.
Years & Years stopped by the Capital Studio in some very flashy outfits - and we were seriously impressed when Olly Alexander revealed his little ensemble was by Gucci... fancy!
The Health & Safety officers all got a bit nervous when MNEK joined Roman for some Swing Ball - and ended up getting conked in the head by the ball! WE hope he doesn't have a headache...
Bastille came along for a chat - and proved exactly why we love them as they were toady humble despite their huge successes so far - is there a band that's cooler than these guys?
Blonde had a pretty traumatic journey in to V Festival - they admitted they had just flown in and the journey was so rough another passenger on the plane was crying out "please"... YIKES.
Jess Glynne joined Will Manning backstage and revealed what she loves most in the world - and takes part in quick fire questions!
The gorgeous Philip George joined us backstage - and revealed what he's getting up to this festival season too!
Keep it Capital tonight from 7pm to hear Roman Kemp live from V Festival - including Justin Bieber's ONLY interview from the weekend. You don't want to miss it!