From Justin Bieber's Ridiculous Dancing To A Kick-Ass Jason Statham, These Super Bowl Ads Are So Surreal
3 February 2017, 16:21 | Updated: 3 February 2017, 17:03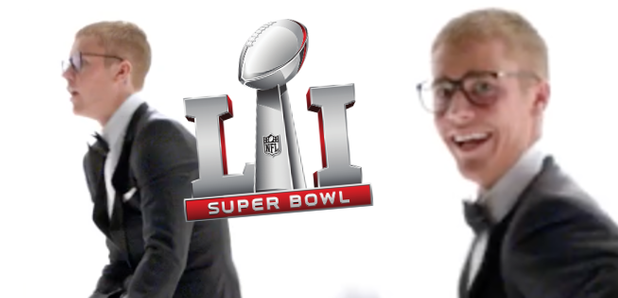 We'll happily challenge Biebs to a dance off now.
We have ZERO ideas what on earth goes on during a Super Bowl. There's so sort of kicking. Blokes crash into each other. People cheer. That's what we've got from it so far.
What we DO know, however, is that there is going to be some weird and wonderful ads featuring your favourite stars.
We've picked our top three, because if you miss these, 2017 just won't be the same for you.
Justin Bieber does ALL of the worst dance moves in T-Mobile's #UnlimitedMoves
The 'Sorry' singer donned a tuxedo and a pair of the most adorkable glasses we've ever seen, to tell the evolution of the touchdown dance. That was all well and good, but what really made us lose it?!
His dancing at the end of the video. You will never be able to watch a Justin Bieber music video in the same way again.
Jason Statham and Gal Gadot beat EVERYONE up... To promote a website-maker. Obvs.
When you want to promote a site that will help you create your own website, what would you do? Have some close-ups of some coding? Show a screen grab of the finished product?
Or would you get The Transporter and Wonder Woman to go out for a meal and then decide to beat some other customers up with their shoes? Yeah. The latter seems the more logical, right?
An old football ref turns into Miranda Kerr, and it's all thanks to seeing a car park
If you like seeing huge professional sportsmen fling tiny, defenceless children over, in a game of American football, then we're pretty sure you're going to buy a Buick.
Heck, even if you don't, we're considering it just because Miranda Kerr was some sort of genie. Or was she a shapeshifter? We don't really know what was going on in this one, to be fair.
You May Also Like...