17 Best GIFs From The Summertime Ball 2015
8 June 2015, 14:55 | Updated: 30 March 2016, 13:50
The #CapitalSTB has been and gone, but that doesn't mean the party is over! We have brought together the BEST GIFs featuring acts from out most insane line up... EVER to keep you entertained for just a little bit longer.
Wow, now THAT is one way to kick off summer. The HOTTEST acts from all over the world descended on London's iconic Wembley Stadium to captivate the crowd and guess what... they didn't disappoint.
Whether your cup of tea is LunchMoney Lewis singing to his own shoes (yes you read that correctly) or Harry Styles drenching the audience with the contents of countless water bottles, we've got you covered.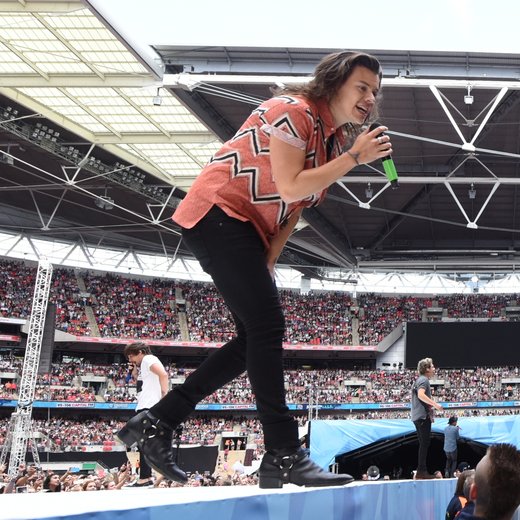 1. The moment Harry was definitely not standing on his mark.
We can't help but feel like Liam, Niall and Louis are channelling their inner 'Minions' here, look at that ADORABLE group shuffle #TooSweet.
2. When Little Mix made their grand entrance on the #CapitalSTB stage.
Can you count how many times the girls blink? Eleven times you say...can you blame them? They just appeared in front of 80 THOUSAND screaming fans (we'd be rubbing our eyes with amazement).
3. When Flo Rida proved you don't have to be in a girlband to to show off some fancy footwork.
Watch out Little Mix...we think you may have a new member of the group VERY soon.
4. When Ari hit THAT pitch perfect note at the end of 'Bang Bang'
Wow! This girl has a set of lungs on her! However she still doesn't know how to zip up that hoodie...
5. The moment Martin Garrix shook the foundations of Wembley Stadium.
The last time this many people jumped up and down in Wembley Stadium was when England won the World Cup in 1966! #FACT
6. When Nick Jonas wore a leather jacket in the London sunshine & still looked cooler than everyone.
Damn it Nick, it's our right to feel hellish, we still get jealous....of your perfect cheekbones #LOVE
7. The moment Harry Styles went all Coyote Ugly on us.
#HellNoH2O
8. The second we all thought Jason Derulo could ACTUALLY be a robot.
You have to admire Jason's back-up dancer for trying to cool down the 'Talk Dirty' star with his cap. It's going to take a LOT more than that pal, Derulo is on FIRE.
9. When Olly Murs blessed us with the BIGGEST smile we've ever seen on a human.
This 'Troublemaker' made our hearts 'Skip A Beat' with this grin. He truly has us ALL 'Wrapped Up' around his finger. Any more Olly puns? No...okay.
10. When Ne-Yo promised the #CapitalSTB crowd a good time.
We put our faith in any man able to wear a fedora over one of his EYES and still look as dreamy as this.
11. The moment Fifth Harmony Bo$$ed their Summertime Ball debut.

We don't think we've seen synchronisation as good as this since we synced 'Worth It' onto our iPod.
12. When Pitbull went HAM during Ne-Yo's set.
We want to know what material that jacket is made of, we were sure those fist pumps would cause a tear or two.
13. The moment Flo Rida pretended he'd won a Formula 1 Grand Prix.
We're just glad Flo Rida isn't a bartender, you would literally get soaked whenever you ordered a drink.
14. LunchMoney Lewis sang.....to his shoes.
Not only does Lunch have bills to pay, he now has holes in his socks too.
15. When the Little Mix ladies turned up the 'fierce dial' to 11.
That's a whole lot of gorgeous in one GIF.
16. Carly Rae Jepsen gave the cutest spin & we fell in love with her even more.
Isn't it just the sweetest!
17. When Avicii invented his own version of sign language.
This simply means 'PARTY ON!'.
You may also like...
Watch Avicii's FULL set at this year's Capital Summertime Ball.