MTV VMA Performance Videos: 11 Iconic OMG! Moments In History
23 August 2014, 22:27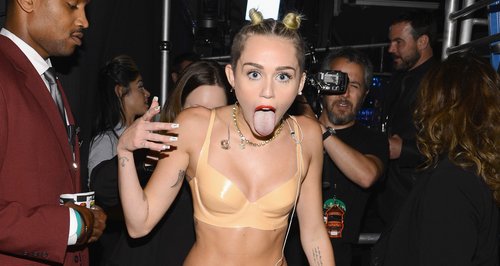 Last year Miley Cyrus and Robin Thicke dominated the headlines thus inspired us to collate our favourite MTV VMA performances in history! Check 'em out.
VMAs 'Class Of 2014' take note, it'll take something REAL special to dominate next week's Fish & Chip paper.
1. That moment in 2013 when Miley twerked up against Robin Thicke whilst rubbing a foam finger across her genitals, we're still cringing!
2. A young Britney Spears hit the headlines after wearing a snake like a scarf on stage, standard.
3. Girl-on-girl action alert! Madonna, Xtina and Britney get it on during a their performance.
4. Talk about bringing your mates along! Usher is joined by P Diddy, Busta Rhymes AND Pharrell during 2002's show.
5. The 2000 MTV VMAs were greeted by not one but ONE HUNDRED Eminems!
6. You ok Lady Gaga? Mother Monster seemed to start bleeding all over the stage in 2009.


7. Rihanna's performance of Disturbia in 2008 was plain Disturbing, those contacts properly freaked us out.
8. In true Queen Bey fashion Beyonce announces she's pregnant MID PERFORMANCE during 2011's show.
9. Taylor Swift throws an epic party on the subway, can we please be there!
10. What a sweetie, Bruno Mars pays an emotional tribute to the late Amy Winehouse in 2011.
11. #VINTAGE! Posh breaks out some awkward moves as the Spice Girls perform 'Say You'll Be There' way back in '97.
You may also like...