Monster Mash-Up FAQs: All The Event Info You Need For The UK's Biggest Halloween Party!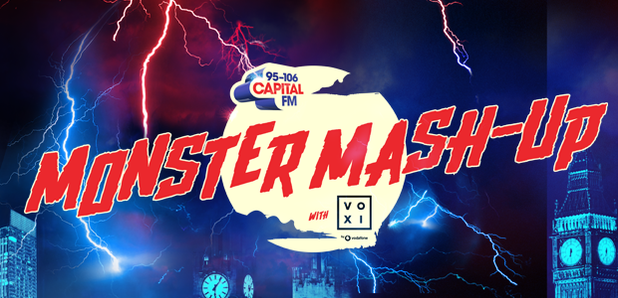 Everything you need to know for this year's Capital Monster Mash-Up with VOXI.
When & where are the Monster Mash-Up parties?
Liverpool - Mountford Hall, Guild of Students - 26th October, 2017
London - Eventim Apollo, Hammersmith - 27th October, 2017
Manchester - Manchester Academy, 28th October, 2017
What time does the party start?
Doors will open at roughly 7PM (6.30PM in London), with the main show kicking off at 8PM until approx. 11PM (curfew in London is 11PM, Liverpool & Manchester is midnight).
Please note: A full bag search and personal security checks will be carried out at all three venues, so you may want to arrive slightly earlier.
How do I get tickets?
Tickets will go on general sale at 8AM on Wednesday 4th October 2017.
What's the dress code?
It's Halloween! Forget "dress to impress", dress to SCARE! Everyone will be in costumes, so let your imagination run wild!
What do I need to bring?
Your ticket. Your ID. Your phone (fully charged!). Your BEST costume. Your A-game on the dancefloor. That's it! Make sure your Insta and Snapchat game is on point too obv.
Is there anything I can't bring?
We want you to have the BEST time and make it a night to remember - but there are a few restrictions on what you can bring into the venues. Go CRAZY taking photos and selfies, but please leave the professional camera and selfie sticks at home.
Also, we're SO down for seeing your epic costumes, but have a chat with yourself about props - there will be zero tolerance on any fake weapon props or any items that could be deemed dangerous.
There is a bar at all three venues, so leave the pre-drinks at home. Any food or drink could be confiscated at the door.
Will I need to bring ID?
Capital's Monster Mash-Up with VOXI is a 16+ event (although we recommend bringing ID regardless of your age. If you're fortunate enough to look under 25 (or if you're wearing a mask, face paint, or the bar staff just want to know your name because you're so fit) and want to get served at the bar, you will need to show ID.
I've got a concern about security...
To put your mind at ease, everyone entering the venue will undergo a security check, and all bags entering the venue will be checked. Please be considerate when bringing props for your costume, as anything deemed offensive (or could be used as/mistaken for a weapon will be confiscated).
I've got a problem with my tickets!
That sucks! But don't panic... everything will be fine! Your first point of call should be the website you used to purchase your tickets in the first place. Failing that, there will be a box office at the venue where your issue should be resolved.