Lady Gaga, Jessie J and Dizzee Rascal Help Close Out Capital FM Jingle Bell Ball 2013
9 December 2013, 09:24 | Updated: 30 March 2016, 13:50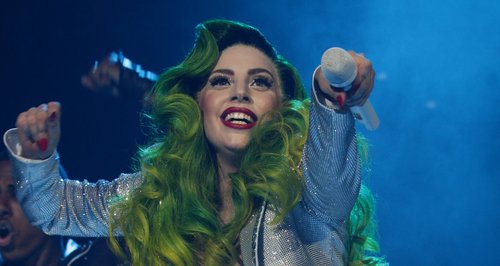 Rudimental, Jason Derulo and Little Mix were among the other amazing acts to play the final night of the show.
Lady Gaga, Jessie J and Dizzee Rascal were among the many amazing acts to play night two of the Capital FM Jingle Bell Ball 2013.
The final night of this year's massive music event at the O2 Arena in London began with a pre-show set from Capital FM presenter Marvin Humes as well as a performance from rising star Little Nikki.
Opening artist Jessie J then took to the stage to perform all of her fan-favourites like 'Domino' and 'Price Tag' as well as being joined for a duet with Dizzee Rascal on 'Wild'.
View a picture of Jessie J's opening Jingle Bell Ball set below:
John Newman then well and truly brought 'the voice' to this year's show with performances of his two hit singles 'Love Me Again' and 'Cheating', after which Little Mix treated the 16,000 fans in attendance to songs like 'Move', 'Wings' as well as their new single 'Little Me'.
It was then over to Lawson for their return to the Jingle Bell Ball to play some of their huge singles from 2013 including 'Brokenhearted', 'Learn To Love Again' and their latest release 'Juliet'.
The Jingle Bell Ball then heated up for a steamy set from Jason Derulo with the US star showing off his sexy dance moves and flexing his muscles for performances of songs including 'The Other Side' and 'Trumpets'.
Jason then brought his set to a close by ripping off his tank top to show off his toned torso for a performance of 'Talk Dirty'.
See Jason flexing below (Credit: Danny North):
The Vamps then made their Jingle Bell Ball debut starting with debut single 'Can We Dance' before singing new track 'Wild Heart' and finishing on a festive note with a cover of Christmas classic 'Jingle Bells'.
Elyar Fox also performed at tonight's (8th December) show when he appeared from the middle of the O2 Arena crowd to sing his debut single 'Do It All Over Again'.
Dizzee Rascal soon made the crowd go 'Bonkers' when he hit the stage to ramp up the party spirit with tracks like 'The Power', 'Holiday' and 'Love This Town' soon getting the crowd up and out of their seats to show off their moves.
See Dizzee taking in the moment below (Credit: Danny North):
The next incredible set came from Rudimental, whose cover of The Fugees classic 'Ready Or Not' proved one of the highlights, as well as being joined at various points by stars like Ella Eyre and John Newman.
Lady Gaga then made her entrance to close out the Jingle Bell Ball, mixing up her set with old fan favourites like 'Poker Face' and 'Bad Romance' with new songs from her album 'ARTPOP' including 'Do What U Want' and 'Aura'.
The US superstar rounded off an incredible weekend of live music by singing 'Applause' to bring the Capital FM Jingle Bell Ball 2013 to an end.