GRAMMYs Seating Plan 2018: Who Are All The Biggest Stars Sitting Next To?
26 January 2018, 16:28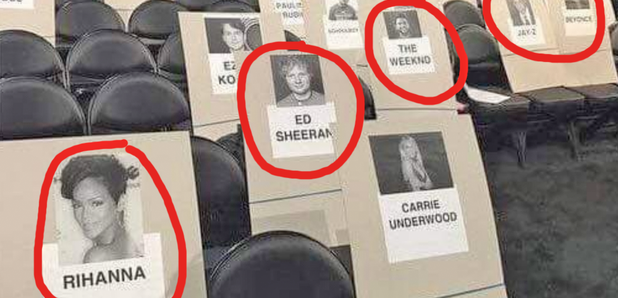 From Rihanna to Ed Sheeran - here's where all of music's most famous names will be sitting at the GRAMMY Awards 2018.
Every year the GRAMMY Awards seating plan creates a buzz of interest as people desperately find out who their faves are sat next to.
Well 2018 is no different and we've finally got our first glimpse of exactly where all of the world's biggest stars will be seated for the evening's entertainment on Sunday 28th January.
> GRAMMYs 2018: Here's Everything You Need To Know About The Star-Studded Awards Ceremony

The most interesting part was that Jay Z and Beyoncé appear to have been given the best seats in the house. The couple are sat at the very front, right in the centre and so will have the best and closest view of the night's proceedings. Not bad eh!
#GRAMMYs seating chart

Beyoncé and JAY-Z pic.twitter.com/qrNv8WLmt9

— JAY-Z Daily (@JAY_Z_Daily) January 25, 2018
But who else has got a spot reserved for them in the front few rows?
Well Ed Sheeran is there in the second row and he's sat just in front of The Weeknd, behind Rihanna and Nick Jonas, right next to Alicia Keys.
Ariana Grande will be there too and she's sat just up in front of Twenty One Pilots, whilst Sia is sat just in front of Lady Gaga and behind Jennifer Lopez.
Adele is in the mix too and her seat one row in front of Katy Perry and right next to Bruno Mars looks like it could be a decent position too.
Billboard exclusively reveals some of the seating charting for the Grammys this Sunday! pic.twitter.com/Evr4NyDuWw

— Music News Facts (@musicnewsfact) January 25, 2018
Miley Cyrus is sat near Elton John, who she's set to perform with on the night, whilst Sam Smith is gonna be parked up right next to the former Disney star.
The Chainsmokers, John Legend and wife Chrissy Teigan, Lorde and a host of other stars are all in the mix down the front, so we're hoping some of this will lead to possible collabs in the near future. Well, we can dream anyway!
Photographs of Grammys seating plans show Beyonce & Jay Z get best seats in the house. Adele next to Bruno Mars, Lady Gaga gets aisle seat. pic.twitter.com/OSyvlUnyOt

— Eric Alper (@ThatEricAlper) February 12, 2017
> Download Our Fancy New App For All The Latest GRAMMYs News!
Whilst you're here, check out Beyoncé's incredible GRAMMYs 2017 performance with these isolated vocals...