Grammy Awards 2014: Live Performances
27 January 2014, 04:48 | Updated: 30 March 2016, 13:50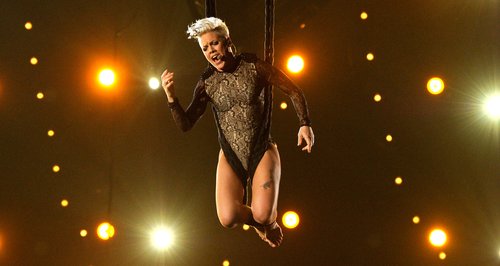 Watch Katy Perry, Beyonce and Jay-Z, Lorde, Taylor Swift and more all perform at the 56th annual Grammy Awards.
It was the biggest night in music and featured some electrifying performances from some of the top artists around.
Beyonce and Jay-Z kicked things off with a sexy rendition of 'Drunk In Love' and there were equally stand-out moments from Lorde, Taylor Swift and Katy Perry.
Macklemore & Ryan Lewis had Madonna join them for a performance of 'Same Love' - which featured the weddings of 34 different couples.
Pink was also flying around the Staples Center and Robin Thicke teamed with legends Chicago.
Check out some of the top live moments from this year's Grammys below:
Beyonce & Jay-Z - 'Drunk In Love'
There's not many better ways to kick off a night then with a performance from two of the biggest stars on the planet! The fact that it was a surprise is just icing on the cake... watch Beyonce & Jay-Z and be amazed:
Lorde - 'Royals'
The critical darling of the past few months... Lorde had a hugely successful Grammys debut by picking up two gongs AND performing her global smash live on the big night! Doesn't hurt that Taylor Swift loved her set as well...
And you know... We're on each other's team. #LORDE #CLEANINGUP #GRAMMYs pic.twitter.com/jRwHkPYfPE

— Taylor Swift (@taylorswift13) January 27, 2014

LORDE " Royals " Live At The 56 Grammy Awards... by UnderProject
Katy Perry - 'Dark Horse'
It was quite a big night for Katy... not only did she debut new single 'Dark Horse' for her performance, she also caught the wedding bouquet during Macklemore's set! Watch her in action for the fiery-themed performance below:

Katy Perry '' Dark Horse '' ft... by gulsen-cangoner
Taylor Swift - 'All Too Well'
Everyone was LOVING Taylor's emotional performance of this 'Red' track, including Girls star and creator Lena Dunham, who tweeted out soon after:
I only have the energy and passion to stay up for Taylor

— Lena Dunham (@lenadunham) January 27, 2014
See what all the fuss was about in Taylor's performance below... and look out for her headbanging antics!

Taylor Swift '' All Too Well ''performing at... by gulsen-cangoner
Pink Feat Nate Reuss - 'Try/Just Give Me A Reason'
The US star's performance featured aerial circus antics, a muscular topless fella AND an amazing vocal performance. What more reason could you need to click on the link below?

P!nk & Nate Reuss Grammy 2014 Performansı... by grammy2014
Kendrick Lamar & Imagine Dragons - 'Radioactive'
Daft Punk Feat. Pharrell, Stevie Wonder And Nile Rodgers - 'Get Lucky'
Talk about your super-groups?! If you want to see talent, stage presence AND one of the biggest hits of 2013 performed live for your viewing pleasure...look no further!