BRITs 2015 Round-Up: Watch Madonna Fall Off Stage, Ed Sheeran Win Big & More!
26 February 2015, 09:22 | Updated: 30 March 2016, 13:50
Relive ALL the big moments from the BRITs including the presenters, performers, winners... and the stars reactions to THAT Madonna stage fall.
The BRIT Awards 2015 was an INCREDIBLE night filled with huge award wins for stars like Ed Sheeran and Sam Smith, show-stopping performances from some of the world's biggest artists... and a show finale mishap we will NEVER forget!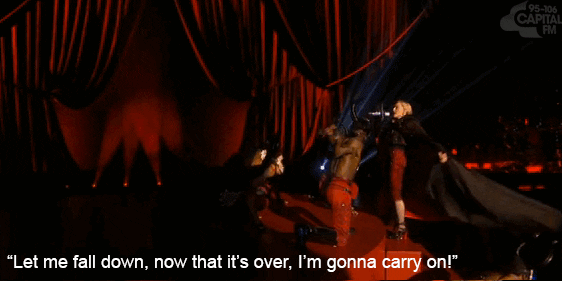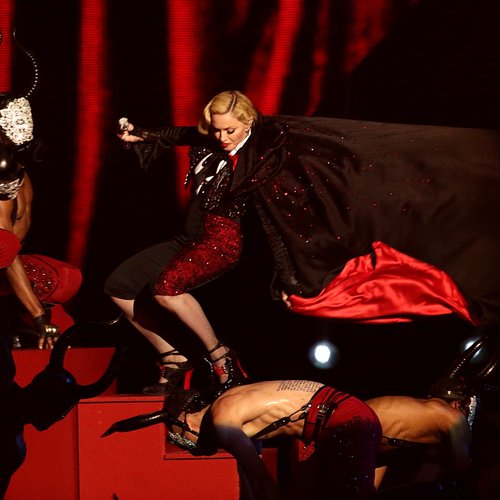 Although he missed the actual moment, Ed Sheeran doesn't think Madonna has too much to worry about with her stage fall - even he and Beyonce struggle to stay on their feet on stage sometimes!
The show kicked off at London's The O2 on Wednesday 25th February with a special performance of dancers "setting the table" for the night's entertainment, spraying champagne into the crowd before lifting up a cloche to reveal hosts Ant & Dec, who introduced the FIRST performer of the night... Taylor Swift!
Rocking a black tuxedo style suit and matching miniskirt, Taylor hit the stage rocking a chic bob hairstyle and backed by Clockwork Orange style dancers for her performance of recent Vodafone Big Top 40 hit 'Blank Space.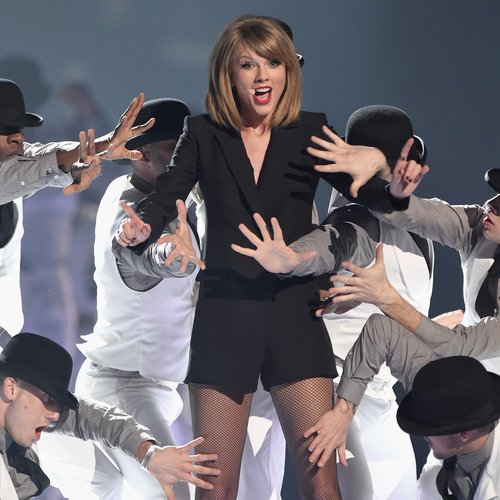 This was the PERFECT way to kick off the show, as the audience was clearly loving the pop-fuelled anthem and Taylor's powerful, pitch-perfect performance of the Capital favourite.
For the FIRST award of the night a slinky and sexy Rita Ora made her way out to the stage with The Hobbit star Orlando Bloom to present, although not before the pair had a cheeky flirt together at the podium!
After giggling at each other about potential wardrobe malfunctions (stop it guys - this is a family show!) the pair went on to present British Male Solo Artist to…. *drum roll*… Ed Sheeran!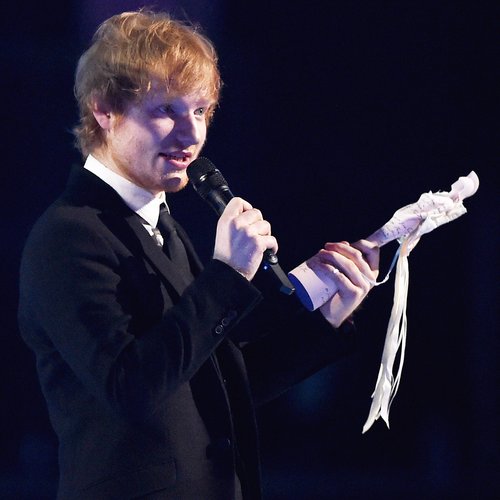 The 'Thinking Out Loud' star was CLEARLY surprised by his win, and made his way up to the stage with the biggest grin on his face, telling the audience it was a "good way to start the night". You're not wrong, Ed!
Next up it was time for legendary Led Zeppelin rock star Jimmy Page to introduce the Best British Group award, announcing that rock duo Royal Blood were this year's winners.
"This is a huge surprise for us," the boys said while picking up their gong. "It's probably more of a surprise for everyone here but we started this band two years ago to have a bit of a laugh and to make music together, so this is huge. Thank you."
For the second performance of the evening, four-time Grammy Award winner Sam Smith took to the stage to bring his latest 'In The Lonely Hour' single, 'Lay Me Down', to life for the BRITs audience.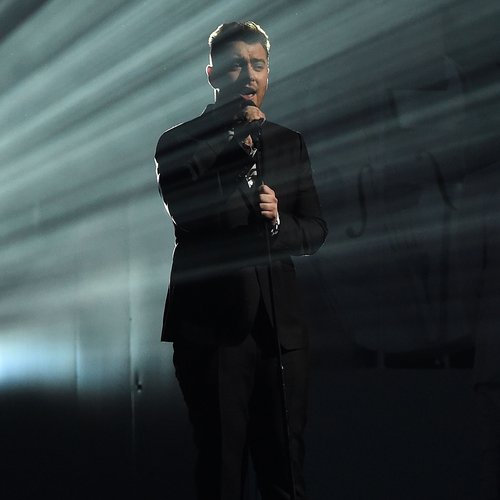 Sporting a bit of stubble and rocking his now trademark suited look, Sam was supported by a lone pianist for the start of his stripped back hit, before a full orchestra joined in to round off the song.
Formula One star Lewis Hamilton and 'Burn' star Ellie Goulding hit the stage next to present the award for International Female Artist, with Ellie clearly SO happy to announce the winner of this one… her BFF Taylor Swift!
"I've been coming to England for eight years and this is my first BRIT Awards, so I'm happy," Taylor said after taking the mic. "Honestly I know I wouldn't be here if it wasn't for my best friend, who took me to pubs and taught me how to make a cup of tea. I want to thank Ed Sheeran, I love you!"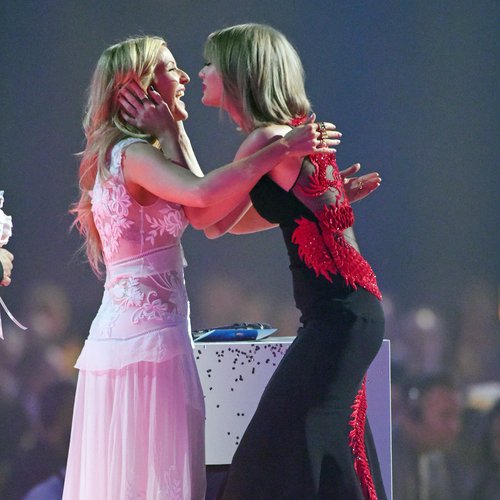 Things were taken up a gear next at the 2015 BRITs when rockers Royal Blood took to the stage to perform their hit 'Figure It Out', clearly on a high after winning their FIRST gong earlier in the night.
Wearing a SERIOUSLY swanky suit, Mark Ronson headed out to present the award for British Female Solo Artist, listing the contenders before homegrown star Paloma Faith was announced as the winner.
A visibly moved and emotional Paloma then gave a powerful speech all about praising the underdogs of the world.
"It's taken me fourteen years to stand up here and accept this award," she told the audience. "I used to fly poster my posters in Hackney for my gigs and I've been arrested twice for doing that and now I've seen that my pictures are all over Greenwich tube station legally, and that's an amazing feeling!
"First and foremost I want to thank my fans who are the most incredible fans, they are so loyal and so wonderful. They're just so lovely," she continued. "Flaws are what make people human. I don't claim to be perfect and I'm a bumbling wreck, but I want to dedicate this to all the underdogs and all the grafters. Thank you so so much."
After Paloma's speech it was British Male Solo Artist winner Ed Sheeran's turn to perform, bringing some VERY high emotion for his solo performance of 'Blood Stream', his Rudimental team-up from 2014 album 'X'.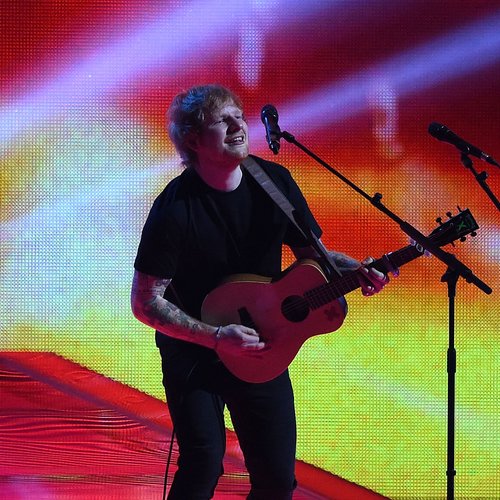 Kim Kardashian got a HUGE pop from the crowd when she rocked up in a glamorous outfit to present a special prize, the Global Success Award, which went to 'Stay With Me' singer Sam Smith.
"Since I was a little kid I dreamed of people all over the world singing my songs," Sam explained, after planting a BIG kiss on his showbiz BFF Kim to say thanks.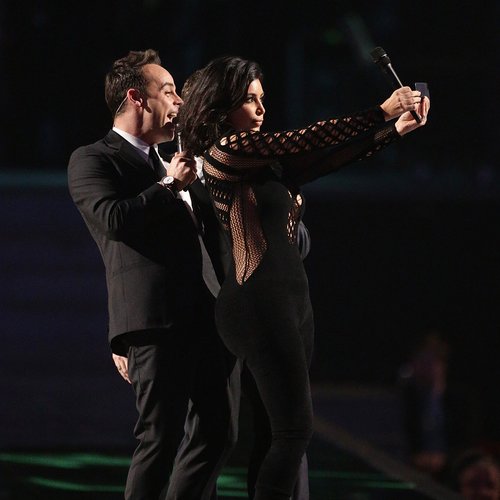 Kim was then MORE than happy to introduce the next act, her husband Kanye West, who debuted a brand new song live on stage at this year's BRITs.
The song 'All Day' featured a HELLOVA lot of swearing, tending Twitter into meltdown in the process, as Kanye was backed by a host of stage dancers, some with flamethrowers!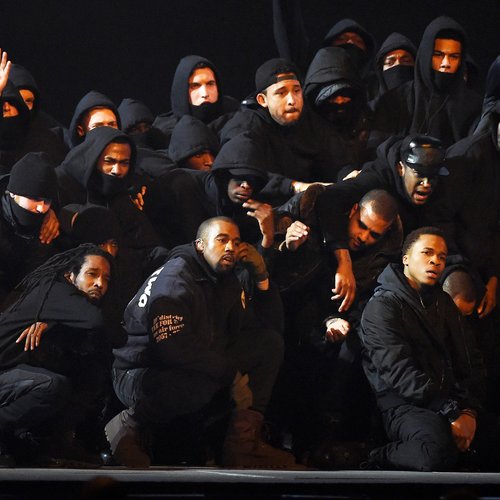 Model-of-the-moment Cara Delevingne was the next presenter for the show as she headed out, announcing Pharrell Williams as the winner of the International Male Solo Artist award, which he accepted through video link.
Veteran superstar Take That headed out next to perform their latest single 'Let In The Sun', an energetic performance with Mark Owen on acoustic guitar and Gary Barlow belting out the notes.
Lisa Snowdon and legendary superstar Lionel Richie then walked out to present the Best British Single award with Capital and Google Play, a hotly contested category of ten of the year's BIGGEST hits.
Mark Ronson's track 'Uptown Funk' with Bruno Mars was announced as the winner, and a visibly emotional Mark hit the stage to accept the award with tears in his eyes.
"I wouldn't be holding this award without the world's most talented Hawaiian Mr. Bruno Mars and I want to share this with him," he said. "I know Paloma said this but I don't get to stand up on this stage very often and I want to thank my amazing wife. You guys are the best."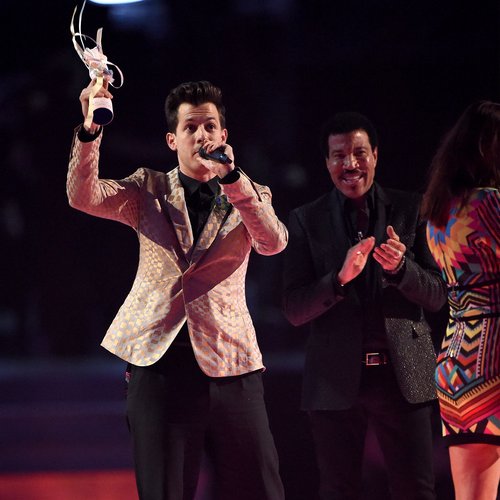 International Group was the next gong to be handed out, by comedian John Bishop, which went to US rockers Foo Fighters, who were another non-attending act this year.
The sexy-voiced George Ezra hit the BRITs stage after this award to bring 'Budapest' to life, with his name in bright lights and his husky tones filling London's The O2. PERFECT!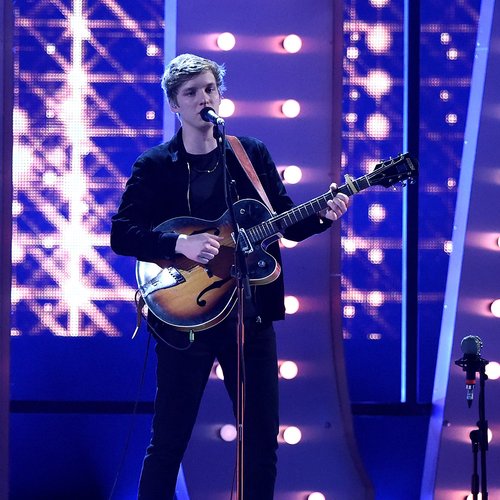 Charli XCX was next on stage to present Sam Smith with the award for Best British Breakthrough, after what has been a truly stellar year for the 'I'm Not The Only One' singer.
After Paloma Faith's heart-wrenching performance of 'Only Love Can Hurt Like This', complete with fake indoor rain (yes, really!), it was time for the penultimate gong of the night.
Best British Video was presented by Jimmy Carr and super-model Karlie Kloss, which they handed out to One Direction for their 2014 hit 'You & I', collected by Syco boss Simon Cowell while they tour in Australia on their 'On The Road Again' tour.
Next up was one of the BIGGEST awards of the night, Best British Album, was was presented by Hollywood icon Russell Crowe.
The highly coveted gong went to UK superstar Ed Sheeran, who won his second BRIT of the night for his 2014 second album 'X'.
"Thank you so much for this," he said, during his acceptance speech. "I was really worried about this album, making it, it took a long time to make and I didn't expect this.
"What I will say though is it's been a very good year for British music," Ed added. "I don't think a statue gives justice to peoples' success, I think it's sales, and tickets and everything. Keep making music!"
For the FINAL moment of the night Madonna hit the stage backed by an army of bull-style dancers to perform her song 'Living For Live', hiding her matador outfit under a giant cloak.
One of the most OMG moments of the night came when Madonna's huge cloak became caught on one of her dancers, knocking the Queen Of Pop off her feet down several steps halfway through the performance.
Recovering from the fall Madonna still put on an amazing show and rounded off the BRIT Awards 2014 holding a pair of horns aloft in front of the BRIT Awards crowd.
WATCH: Roman chats to Charli XCX out on the #BRITs2015 red carpet
Could Adam Lambert be the ULTIMATE Sam Smith super-fan?
Clean Bandit open up to Roman about their experience at the BRIT Awards 2015:
The BEST of the red carpet - check out the most amazing fashion looks from the #BRITs2015!