People Think The BRITs Got Hacked During The 1975's Performance & Here's Why
22 February 2017, 21:09 | Updated: 22 February 2017, 22:52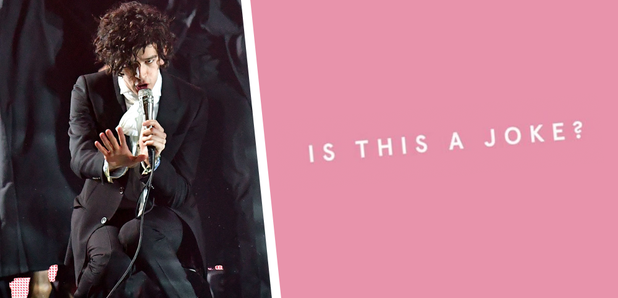 People couldn't believe what they were seeing!
They'd just been up on stage to collect the Best British Group award for the first time in their careers, but The 1975 were quickly back up to put on a stunning performance of their track 'The Sound'.
However, people thought that the band's performance had been hacked after rude comments started popping up on the screen!
The band were putting in a solid performance alongside a gospel choir, but they were harshly ripped into throughout by a bright pink screen.
Is this meant to be happening during the 1975 Brit awards performance? #brits #1975 #britawards #britawards2017 pic.twitter.com/qV2ySChNpE

— Tamara Pensa (@TamaraPensa) February 22, 2017
And it sparked people into a frenzy thinking that the entire awards show had been hacked!
#1975 #BRITs2017 what's going on with their set? Is this suppose to happen? @BRITs pic.twitter.com/3ZoOw9YkMN

— Abi Pike (@Abi20047) February 22, 2017
@ITV was the brits hacked during the 1975 performance?

— gray brodie (@grayb1985) February 22, 2017
#BRITs2017 has the brits been hacked?? 1975

— kelly (@k_tozer77) February 22, 2017
Luckily there were a few people on hand to set everyone straight...
when someone says they are a fan of the 1975 but think the brits were hacked during the performance #BRITs2017 pic.twitter.com/yjLenEDxge

— alana xo (@3xxalanaxx3) February 22, 2017
The 1975 hacked and trolled their own #BRITs performance loool #the1975 pic.twitter.com/2oTmlOTAdN

— Drumbledore (@Torchels) February 22, 2017
The clips were actually criticisms that the band have received from critics previously and were part of their music video for the track they performed, so they knew about it all along and it was planned.
Phew! Panic over.
You may also like...