Jennifer Lopez And Iggy Azalea To Perform 'Booty' At American Music Awards 2014
21 November 2014, 10:37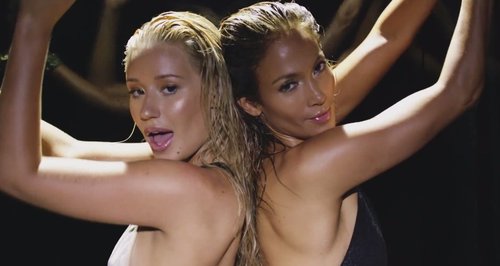 The 'Booty' stars joins the likes of Nicki Minaj, Ariana Grande, Taylor Swift and One Direction - plus all of the nominations for this year's awards.
Jennifer Lopez and Iggy Azalea are the latest stars confirmed to perform at the American Music Awards 2014, ahead of the event this coming weekend.
The 'Booty' stars will be performing their sexy joint track and are fresh additions to an ever-growing line-up of world-class stars that also include Ariana Grande, Nicki Minaj, Lil Wayne, Selena Gomez, Taylor Swift, One Direction, 5 Seconds Of Summer and Sam Smith.
Ariana Grande is expected to play a medley of tracks like 'Problem' and 'Break Free' from her 2014 album 'My Everything', Nicki Minaj is believed to be playing 'Bed Of Lies' on the bill and Lil Wayne will premiere his new single 'Start A Fire' with Christina Millian.
Selena will be performing her brand new song 'The Heart Wants What It Wants', Taylor Swift is expected to play her new '1989' single 'Blank Space' and One Direction are looking to play a track from their just-launched new album 'FOUR'.
'Fireball' rap star Pitbull has been confirmed as this year's guest host, and he sounds like he's VERY excited about the gig!
"World, who would have thought Pitbull hosting the AMAs two years in a row?" Pitbull said in a statement to announce his gig. "The harder I work, the luckier I get!
"Let's get ready to have fun!" he added. Mr. Worldwide is coming to the AMAs!
Plus it looks like Iggy Azalea could clean up in awards season, if this year's American Music Awards nominations are anything to go by!
The 'Fancy' rap star is up for a total of SIX categories at the AMAs 2014 next month, leading the pack against some SERIOUS pop star heavyweights.
Just behind Australian rapper Iggy is Katy Perry and Pharrell Williams, both with five nods each, with all three acts also in the running for Artist Of The Year.
Elsewhere, stars like Lorde, One Direction and Beyonce all have multiple nominations, making sure this year's event will be a fiercely competitive showcase. Bring it on!
The American Music Awards 2014 takes place at the Nokia Theatre in Los Angeles on Sunday 23rd November.
Check out the American Music Awards 2014 nominations list below:
Artist Of The Year
Iggy Azalea
Beyonce
Eminem
Lorde
One Direction
Katy Perry
Pharrell
Imagine Dragons
John Legend
Luke Bryan
New Artist Of The Year
5 Seconds Of Summer
Meghan Trainor
Sam Smith
Bastille
Iggy Azalea
Single Of The Year
Iggy Azalea Feat. Charli XCX - 'Fancy'
Katy Perry Feat. Juicy J - 'Dark Horse'
Pharrell - 'Happy'
MAGIC! - 'Rude'
John Legend - 'All Of Me'
Favourite Male Artist (Pop/Rock)
John Legend
Pharrell
Sam Smith
Favourite Female Artist (Pop/Rock)
Iggy Azalea
Katy Perry
Lorde
Favourite Band, Duo Or Group (Pop/Rock)
One Direction
OneRepublic
Imagine Dragons
Favourite Album (Pop/Rock)
One Direction - 'Midnight Memories'
Katy Perry - 'Prism'
Lorde - 'Pure Heroine'
Favourite Artist (Rap/Hip-Hop)
Favourite Album (Rap/Hip-Hop)
Iggy Azalea - 'The New Classic'
Eminem - 'The Marshall Mathers LP 2'
Drake - 'Nothing Was The Same'
Favourite Male Artist (Soul/R&B)
Pharrell
Chris Brown
John Legend
Favourite Female Artist (Soul/R&B)
Beyonce
Mary J Blige
Jhene Aiko
Favourite Album (Soul/R&B)
Beyonce - 'Beyonce'
Pharrell - 'G I R L'
John Legend - 'Love In The Future'
Favourite Artist (Alternative Rock)
Lorde
Imagine Dragons
Bastille
Favourite Artist (Adult Contemporary)
OneRepublic
Katy Perry
Sara Bareilles
Favourite Artist (Latin)
Enrique Iglesias
Marc Anthony
Romeo Santos
Favourite Artist (EDM)
Avicii
Calvin Harris
Zedd
Top Soundtrack
Frozen
The Fault In Our Stars
Guardians Of The Galaxy
You May Also Like…