Two Men Wanted After Man Has Liquid Thrown In Face
30 August 2018, 18:17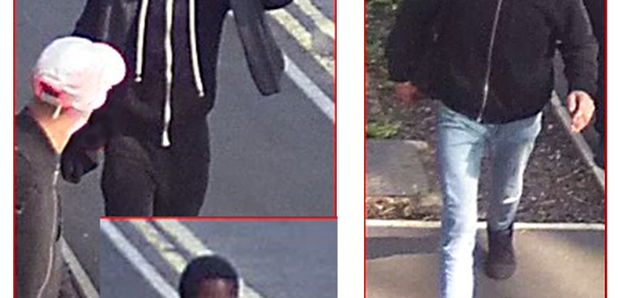 Police in Leicester are re-appealing for help finding two men after a man had liquid thrown in his face during an assault in May.
In July CCTV images were issued of three people we wished to identify in connection with the incident. A 20-year-old man has since been identified and spoken to by officers.
Leicestershire Police say the incident took place on Saturday 19th May when a 20-year-old man was approached in Leicester and a liquid was thrown in his face. He sustained significant injuries and has not regained the sight in one of his eyes.
The liquid is not believed to be acid based but further tests are being carried out.
The incident took place around 9.30am in the street at Jarrom Court. Since then officers have continued their investigation and are urging the public to help identify the two men in the images.
Officers at @leicspolice are still looking to speak to two men after liquid was thrown at a man in #Leicester

CCTV images of three people were released by police in July - but only one has been identified #CapitalReports pic.twitter.com/xKHozjLrZW

— CapitalEastMids News (@CapitalEMNews) 30 August 2018
Detective Constable Chris Fox is investigating the incident, he said: "The victim was discharged from hospital after a few days but he is still undergoing treatment as an outpatient, the prognosis is that he may regain the sight in his eye and is recovering well.
"You can help us move this investigation forward by getting on touch if you recognise the men in the images. Even if you're not 100% sure we would still ask that you get in touch.
"The incident took place in broad daylight in a busy area of Leicester, not far from the Leicester Royal Infirmary hospital. If you witnessed it and haven't yet spoken with officers please call us."
Anyone with any information is asked to contact DC 2011 Chris Fox on 101, quoting crime reference number 18*228372.