Tributes Roll In For Derbyshire Backpacker Stabbed In Australia
24 August 2016, 17:47 | Updated: 25 August 2016, 08:18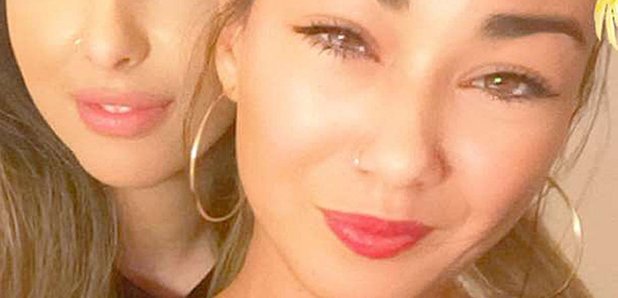 A 29-year-old French national has been charged with the murder of 21 year old Mia Ayliffe-Chung, from Derbyshire
She was stabbed to death at a backpackers' hostel in Australia by an attacker shouting "Allahu Akbar''.
30 year old Tom Jackson who tried to save her, remains critically ill. 46-year-old Grant Scholz, who ran the hostel, was also injured.
Her mum's partner Stewart Cormack paid tribute to her:
Mia was from Wirksworth and went to Ecclesbourne school before moving to Anthony Gell School in year nine. After secondary school, Mia went to Chesterfield College where she studied psychology, communications and culture. She went on to study childcare at Buxton College.
Anthony Gell School released this statement: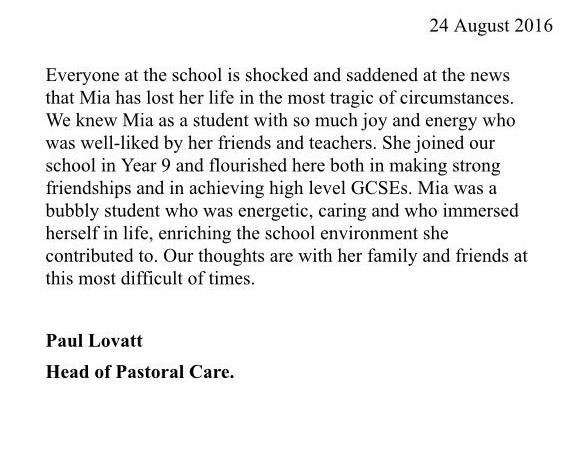 Mia had travelled to Bali before arriving in Australia. She was living in Shelley's Backpackers hostel in Home Hill and was just beginning her three-month trip working with animals on a farm in northern Queensland. She'd lived in Surfers Paradise on the Gold Coast and worked as a waitress at the Bedroom Lounge Bar before making the 800-mile trip north to work on the farm.
Mia's Best Friend Zoe Atkinson told Capital:
"Mia was the most fun live wire you could ever come across. There was never a dull moment with her. Her passion was so alive you could feel it when around her. She always stood up for what she felt was right. She had huge amounts of empathy and loved very strongly. I am proud that she lived her dreams and that's all I ever wanted for her."
The 21-year-old's Facebook feed was regularly updated with pictures and statuses detailing and sharing her travel experiences with friends.
Her latest update on August 20 read:
"Day 4 done. Just 85 left! Skills achieved; the ability to tell the difference between a rock and a clump of mud and throwing stones really far. The sun is too hot. Stupid Australia.''
In another post on July 19, Mia wrote about her feelings on the downsides of travelling the world:
"The hardest thing living my dream, missing the important home things. Graduations, people in hospital, funerals and birthdays.''
Monique Cross, an Australian friend of Mia's, told the Press Association: "She was a gorgeous person. It's an awful tragedy - I can't believe it.''
According to Mykah Powell, 18, her friend and colleague from the Gold Coast's Bedroom Lounge Bar, Miss Ayliffe-Chung first worked at Bond University, but because she loved the night life she started working at the bar six months ago as a waitress.
Such sad sad news about Mia Ayliffe-Chung the world is not a safe place #rip

— Connor Smith (@Connnor_Smith) 24 August 2016
Amy Browne, 19, also from the Gold Coast, worked as a bartender at the lounge bar with Mia. She told the Press Association:
"Mia was honestly the most bubbliest and most caring girl I knew. She got along with everyone she met, she just had that gorgeous personality that everyone seemed to enjoy.''
Mykah added:
"She loved her cat Leo which she purchased here in Australia very much and was forever Snapchat-ing the cuteness.''
A former colleague, who did not want to be named, said Mia left the bar three weeks ago to start working on the farm. According to the friend, she had only done three days of work before she was killed.
Rip Mia Ayliffe-Chung

— liam (@yhhliam) 24 August 2016
More friends and travellers posted heart-felt tributes online to Mia when she was named as the murder victim in reports.
Kyle Godwin wrote:
"We really do live in a cruel world. The only good thing to come from this is that heaven really truly has gained an amazing and beautiful soul. I love you more then anything in this world beautiful''.
Tommy Martin, 24, from Newbury, Berkshire, who met Mia in Bali before reuniting on the Gold Coast, told the Press Association:
"She was a free spirit who didn't have any set plans but that's the way she loved it.''